Asphalt Maintenance Repair Blaine MN
Posted In: Seal Coating
Published On: May 13 2014
Written By: Seal King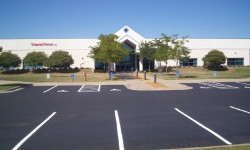 High quality repair, maintenance and seal coating services are a must for anyone who owns a home or any other property that has any type of asphalt surface. If you are in Blaine, MN and are in need of professional asphalt services Seal King has you covered. Our asphalt pavement specialists are reliable and have mastered the skills needed to successfully maintain, repair and seal coating asphalt. Add appeal to your property by having Seal King properly service your existing asphalt.
Residential Asphalt Services
Each and every year homeowners upgrade, update and repair their home with hopes that their investment will eventually pay off. One way to make a noticeable difference in the appearance of your home is by servicing your asphalt driveway. When you hire professionals to repair and seal coat your driveway you are adding both value and a visual appeal to your home. This home improvement will not go unnoticed and is extremely contagious within neighborhoods.
Commercial Asphalt Services
Image is everything, especially when it comes to business. Don't scare off potential clients, employees, partners or anyone because of your decaying, ill-informing parking lots. An owner of a business gives direction and ensures that all the pieces of the company are beneficial. What kind of message would a corporation be sending if anyone entering the location has to swerve to avoid potholes in the asphalt, or can't see allotted parking spaces, handy cap parking, where the fire exit lanes are or doesn't have an indication that the area is a cross walk. All of these can be potential hazards and cause chaos. Don't be responsible for an unmarked and poorly maintained parking lot, it could lead to a lawsuit.
The professional pavement specialists of Seal King can properly indicate parking lot areas for ease of traffic and the aid of direction. We can take on that large asphalt parking lot, pathways and more. Just contact us and explain your commercial asphalt specifications, we will give you a free quote!
Complete Asphalt Services
When preforming any asphalt services we make sure the job is done right. First we assess the asphalt for any small damages that will easily and quickly extend further. Our crew will communicate with you what we feel should be completed, for a long lasting finish. We will then power edge the parking lot, pathway, driveway or other asphalt services and clean all the debris. Any asphalt repairs that need to be made will sealed and patched and hazardous spills will be treated. Only after all of these surfaces are completed will we then seal coat the asphalt surface.
Asphalt Seal Coating
Our high quality liquid sealer will protect your asphalt driveway, parking lot or pathway from the damaging elements it encounters every day. Seal coating will also make future needed asphalt touch ups, cleaning and even snow removal easier. This process will also dramatically extend the life of any asphalt surface.
Call the asphalt pavement service specialists today for all your residential or commercial needs. Our local Blaine, MN area Franchise Owner, Blaine Schmit, can be reached at 763-377-2220.