Asphalt Patch Repair in Minnesota
Posted In: Asphalt Maintenance
Published On: May 05 2017
Written By: Seal King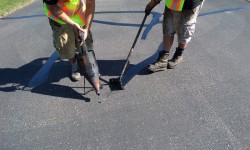 The winter is winding down in Minnesota which usually puts a smile on a lot of people's faces in the community. The blooming flowers and warmer temperatures are reasons to smile! Although it seems like the winter weather will soon disappear, that doesn't mean that mother nature didn't leave its mark. One area of your property that may show signs of damage from the winter weather is your asphalt. Have you noticed cracks or potholes within your driveway or corporate office's parking lot? This type of damage is not something that you want to let linger because it will only get worse. If you are looking for an affordable asphalt repair in Minnesota, look no further than our experts at Seal King Professional Sealcoating.
Quality Asphalt Repairs
By partnering with Seal King, you can rest assured that the materials and equipment used to strengthen and repair your asphalt are top of the line. Our priority is to fix any repairs your driveway or parking lot needs early, so that the damage doesn't continue to get worse. Even small cracks in your asphalt can allow water and dirt to seep in below the asphalt, which can cause significant damage over time.
Patch Repair Specialists
When it comes to asphalt repair, one of our specialties is patch repair. This process focuses on cutting out the damaged part of your asphalt entirely. Once the poorly functioning portion of your asphalt is disposed, our dedicated staff applies new asphalt in the area to take its place. Our asphalt patch repair process includes the following steps:
Measure Affected Area
Cutting of Asphalt
Removal of Aged Asphalt
Foundation Implementation
Lay New Gravel
Compact Gravel
Clean Area
Apply Tack Coat
Heat Asphalt
Final Compaction Process
Keeping Promises Since 1991
Maintaining our prominence as the best asphalt repair team in the area has been centered around customer service. Since 1991, our professional sealcoating team has made it a priority to provide elite service and utilize the highest performing products to create a truly elite asphalt repair process. Our Seal King promise still rings true today. If you are not completely satisfied with the final look of your asphalt patch repair, contact our staff before the end of the season and we will do what it takes to satisfy your needs at no extra cost.
Now is the time to invest in asphalt patch repair services from Seal King Professional Sealcoating. That way you can take advantage of this spring weather and get out and enjoy the outdoors, while knowing that your asphalt is safe. Visit www.sealking.com today to find a location in Minnesota nearest you!