Bargain Sealcoating vs Quality Sealcoating
Posted In: Asphalt Maintenance
Published On: October 19 2016
Written By: Seal King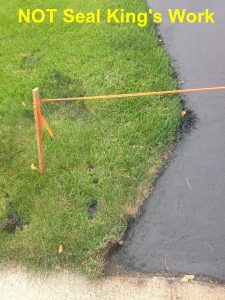 If you have considered sealcoating your asphalt driveway to extend its life and improve the overall look, you may be tempted to find the least expensive sealcoating service in the area.  However, before you move forward with one of the $99 deals, consider this — you get what you pay for.  Seal King is a widely respected Sealcoating company offering residential and commercial sealcoating service to those in the Minnesota and Wisconsin area for more than two decades.  Seal King offers the highest quality sealcoating services in the area and while our services might cost a bit over the $99 specials featured in the area, the small extra investment you make now will pay off down the road.
You Always Get What You Pay For
Think for a moment about how you decide what type of paint to purchase for the interior of your home.  While there are many great inexpensive brands of paint on the market, the primary reason paint quality dips as the price drops is because of what paint is actually made of. Paint is made up of solvents, pigments and resins. The solvent allows the paint to spread evenly and then evaporates as it dries. Pigments are particles which give paint its color, and resins bind those pigments together to create the "film" of the final product.
So, have you ever wondered what the difference is between a $10 gallon and a $25 gallon just next to it on the shelf at your favorite hardware store? As you may have suspected, the bargain paint is diluted with more solvents (liquids) and contains larger particles of pigment. Higher quality paint will be more concentrated with finer pigments and higher grade resins, so the final product will have more even color and a more durable finish. This means that you will have to use less of the more expensive paint as it will cover your walls with fewer coats and last longer.
High Quality Sealcoating Without Compromising Quality
The exact same principle can be applied to sealcoating solvents.  While you might save a few dollars going with a $99 sealcoating deal, you will find that you will be compromising quality.  Seal King uses only the highest quality sealcoating product that will coat more evenly, and will be more durable and last longer in the harsh winters seen in our area.  Seal King uses liquid asphalt sealers with high performance polymer additives and silica sand to give our material the durability to stand up to extreme climate conditions. We use premium hot rubber material for our crack fillers to prevent water penetration that can cause heaving and shifting of the driveway.  Our team will also leave the area completely clean after our work is done — unlike many of the discount companies.  So, if you want to protect your asphalt, contact Seal King for the job!