Benefits Of Protecting Your Asphalt Surfaces
Posted In: Asphalt Maintenance
Published On: September 02 2022
Written By: Seal King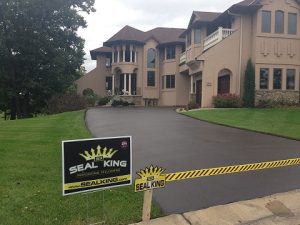 A sealant is typically used to provide a barrier of protection for a wide variety of materials. It is often used in construction projects to seal or block between building materials. A sealant is often used when it is important to prevent moisture from being transferred between surfaces and/or small openings. Similarly, a sealant can be used to protect asphalt and prevent water and dirt from getting underneath your driveway or sidewalk and causing cracks, holes or other damage. When moisture gets underneath asphalt it can decrease the strength and durability of the surface. Over time, this moisture will cause significant deterioration and require asphalt repair or even complete replacement.
In order to prevent this damage and deterioration, you can opt to have your driveway, sidewalk, garage apron or other asphalt surface professionally seal coated. This sealcoating process effectively seals the entire area and prevents water from being able to penetrate the asphalt over time. Seal King specializes in commercial and residential sealcoating services for those living in the upper Midwest and surrounding areas. The benefits of sealcoating asphalt surfaces around your home or business include the following:
● Extend the life of the asphalt surface: When you team up with Seal King for professional sealcoating services, you are making an investment in your property. This investment will extend the life of your asphalt driveway, sidewalk and/or parking lot so that you do not have to worry about the costs of repair and replacement for many years to come.
● Improve curb apparel: Whether you are a homeowner or own or manage your own business, it is important that your property look its best. Sealcoating prevents discoloration and deterioration of your asphalt and improves its overall appearance.
● Reduce risk for safety hazard: When your driveway or parking lot has cracks or potholes, those can be a safety hazard for those driving or walking in the area. Asphalt repair and sealcoating services will keep your asphalt smooth and safe.
● Improve resale value: Professional sealcoating services is a relatively small investment in your property that can yield much bigger benefit down the road should you ever decide to sell your property.
Professional Sealcoating Services
Seal King is the leading professional sealcoating service in the area. We have been in business since 1991 and have become a trusted local company because we complete high quality work with affordable prices. With many locations all over Minnesota, Iowa and Wisconsin, there is a Seal King near you!