Best Sealcoating Company
Posted In: Residential Sealcoating
Published On: April 30 2021
Written By: Seal King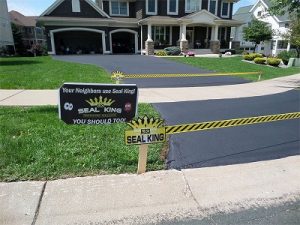 Seal King offers the best qualities of a larger, successful business and a local, independent company. Seal King is a corporate entity based in Lakeville, MN, but each of our offices is a locally owned franchise. As a result of our decades of success, we have been able to combine the stability of a large corporation with the excellent customer service and community focus of an independent franchise. In the early part of the 21st century, our business model is just beginning to hit its stride.
Our business model focuses on making sure that our customers benefit the most from our continuing success. In addition to combining the benefits of the big with the small, Seal King really began as an idea based on excellent and responsive customer service. Treating customers well became known as The Seal King Promise, and we take the positive, respectful, and honest treatment of our customers very seriously.
High Quality Sealcoating With Excellent Customer Services
We do this because we know that you have a choice when it comes to resurfacing your driveway or parking lot. But by establishing ourselves as members of the communities in which we operate, we become more accountable to our clients. When you work with us to repair and/or resurface your driveway or parking lot, you will quickly understand that we want to employ our knowledge and expertise of surface sealcoating in a way that creates a feeling of partnership. We know that when we finish the job that you have requested of us, the high quality of our work means that it will be a while before you need us again. We are reliant on our customers to spread the word to others who may be in need of sealcoating. The only way for word-of-mouth advertising to lead to success in this business is for those words to be positive.
Best Sealcoating Services Near You
We have worked hard to make ourselves experts in the field of sealcoating, but even the smoothest and least expensive sealcoating result does not go very far if the customer does not feel as though they were treated well. Regardless of the size or complexity of the job we are contracted to do, we are committed to treating our customers well. We can make that commitment because we have made ourselves experts in the process of repairing and sealing driveways and parking surfaces. We are happy to tell you more about those processes in great detail, but first we want you to know that we will do our best to make you happy with the outcome. There are many Seal King locations across the area ready to serve you!