Commercial Asphalt Sealcoating MN
Posted In: Commercial Asphalt Sealcoating Services
Published On: April 25 2019
Written By: Seal King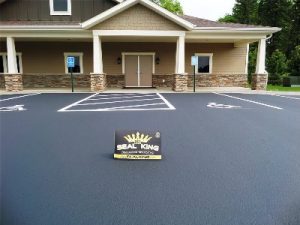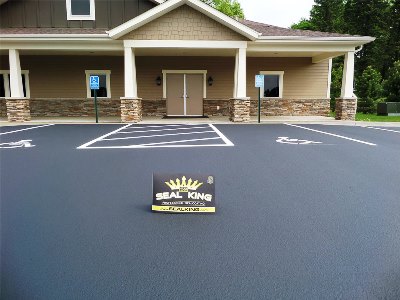 Is your commercial parking lot showing its age? If so, you may have thought about repaving your entire parking lot but quickly realized the cost may be out of your budget. Well, if you're looking to upgrade the look of your parking lot without breaking the bank, you may be interested in commercial asphalt sealcoating in MN. Our team at Seal King has helped a large number of Minnesota businesses with their commercial sealcoating needs.
Why Does My Business Need Sealcoating?
There are a number of benefits if you're looking to invest in sealcoating for your commercial parking lot, a few of which include:
Prevents water from seeping under your pavement – Sealcoating helps to seal cracks in your pavement which if left unsealed can lead to water making its way under your pavement. Once this water gets under your pavement, it can weaken the asphalt and cause potholes to form.
Extend the life of your asphalt – Sealcoating helps to protect your asphalt and in turn ensures that it will last longer.
Cost effective – Sealcoating is significantly less expensive than repaving your entire commercial parking area.
Protects your asphalt – With sealcoating your asphalt will be protected from the sun's harmful UV rays as well as from oil, gasoline and other harmful chemicals.
Boost curb appeal – If your commercial parking lot is looking a bit dated, use commercial sealcoating to improve the look of your parking lot. You want to give a positive first impression to customers visiting your office and an attractive parking lot is a good start!
Extend the Life of Your Asphalt with Sealcoating
As a business owner you have enough expenses to worry about. Whether it's taxes, payroll, insurance or just ensuring you're able to remain profitable, running a business can be extremely stressful. Don't let the cost of new asphalt negate a significant amount of your company's profits. Instead learn about how sealcoating can not only extend the life of your asphalt, but also improve the look of your parking lot as well.
Seal King – Your Commercial Asphalt Sealcoating Experts in MN
Now that you're aware of the many benefits of commercial sealcoating, feel free to reach out to Seal King today. We'll be happy to come out to your office and provide you with a free estimate on any of our sealcoating services. We've been providing sealcoating services throughout Minnesota for decades and would be honored to add your company to our list of satisfied customers.