Correct Way to Sealcoat a Driveway
Posted In: Driveway Sealing Companies
Published On: January 21 2019
Written By: Seal Coating Team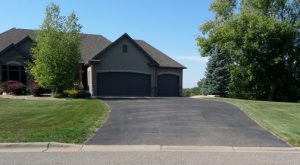 At Seal King Professional Sealcoating, we have been providing professional seal coating for over 25 years. We are proud to say that our experience has taught us that there is, without a doubt, a correct way to sealcoat a driveway. This goes without saying that, unfortunately, there are also many incorrect ways to sealcoat as well. So, do not be fooled by BOGO deals that might falsely advertise quality sealcoating. If you are searching for quality sealcoating for your driveway, let our professionals at Seal King Professional Sealcoating do it the correct way, the first time around.
Sealcoating Quality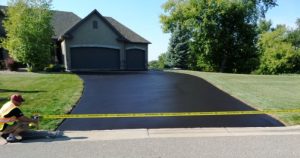 At Seal King Professional Sealcoating, we believe that the first step in providing a quality sealcoat to a driveway is having a quality product. Unfortunately, many of your $99 sealcoating deals result in shortcomings that end up costing you much more than what your sealcoating job was worth. At Seal King Professional Sealcoating, we only use the best Raw products, high performance quality additives and special blackening agents to keep your asphalt looking fresh. All of our products are stored in a climate controlled facility and are blended to create a hot mix sealer. Using our hot mixing equipment technology, we have quickly become the pioneers in the sealcoating industry for creating the absolute highest quality sealer around.
Sealcoating Process
Seal King Professional Sealcoating takes an intricate approach to everything we do. When we sealcoat a driveway, we want to make sure it is done right. For these reasons, our technicians take every job step by step, ensuring a quality sealcoat every single time we complete a job. Our process is made simple so that our results are impeccable. An example of our sealcoating driveway steps includes:
Power Edging
Power Edge Cleaning
Power Sweeping & Blowing
Oil Spot Treatment
400 degree Rubber Crack Filling
400 degree Joint Filling
Driveway Edging Brush
Professional Seal King Sealer
Brush Application
Barricade Driveway
Correct Way to Sealcoat a Driveway
Do you notice that we don't even get to sealing your driveway until step 7? We believe that the correct way in sealcoating a driveway has a lot to do with preparation and then execution.
Ready to have your driveway sealed by the best? Don't let false information out there lead you into a bad deal. Choosing quality is always the right choice for your driveway. For more information on the correct way to sealcoat a driveway or to find a Seal King Professional Sealcoating location nearest you, visit us online at www.sealking.com