Extending The Life Of Your Driveway
Posted In: Asphalt Maintenance
Published On: June 24 2022
Written By: Seal King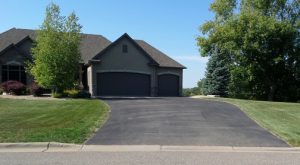 Do you take pride in your home? Your property? Your vehicle? We all work very hard to keep your home looking its best so that you can enjoy it when you are there and enjoy having friends and family stop by. Your driveway is often the very first thing that you see when you approach your home and over time, it can begin to look old, worn and even damaged. Seal King offers professional residential sealcoating services that can protect your driveway and help you make a great first impression for those coming over for a visit.
Residential Sealcoating Services In Minnesota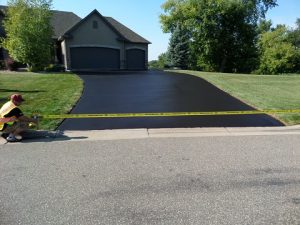 Seal King is the single best source for those in Minnesota, Iowa, and Wisconsin who are interested in making their driveways last for as long as possible. If time, the weather, and other factors have made your driveway more of an eyesore than a source of pride, Seal King can restore its beauty and utility. We hire professional technicians who understand how to assess the current condition of a driveway and then employ the techniques to repair cracks, sharpen edges, and apply Seal King's professional sealcoating.
Our sealcoating process involves a comprehensive approach to driveway repair. Preparation of the surface to be seal coated is as important as applying the sealcoating to your driveway. If the surface underneath the sealcoating is not prepared correctly, the sealcoating on top will not adhere well. Our promise to you, the Seal King Promise, is to provide the highest quality service available in the sealcoating industry so that you are one-hundred-percent happy with the final product. If you are happy with our work, we hope you will recommend us to others who could benefit from our services. Our business thrives when our customers are happy, so it is in the best interests of our company to work toward our customers' satisfaction. The Seal King Promise also states that, if a customer is not satisfied at any time in the sealcoating process, we will address the concerns immediately and work toward ensuring your satisfaction.
Professional Residential Sealcoating Services
We have found that the best way to ensure our customers' satisfaction is to do what we do best, which is adding longevity to asphalt surfaces with our sealcoating process. Your driveway may not be something you think about often. When it begins to degrade, however, you may notice that it detracts from the beauty of your property. Repairing cracks and pits and then sealcoating it can do more than just help your driveway last for decades longer; it can add to the beauty of your home. If you are interested in residential sealcoating services, we have many convenient locations in Minnesota, Iowa, and Wisconsin.