Ideal Time To Repair Your Garage Apron
Posted In: Apron Repair
Published On: July 15 2022
Written By: Seal King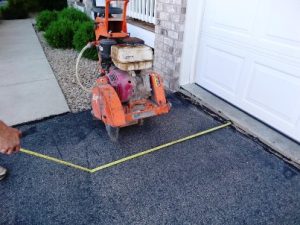 It may come as a surprise to some, but professional sealcoating of driveways and parking lots is not done for only cosmetic reasons. The services we provide can actually extend the life of a driveway or parking lot. For example, if your driveway is damaged, and one of the problem areas is the apron that connects your garage to your driveway, you could have a potential safety issue on your hands. Like any structure built on top of the ground surface, the apron of your garage is at risk of settling, which means that it could crack and possibly even sink to a level that poses a safety issue. This would be a ideal time to repair your garage apron. Seal King's professional seal coaters can fix this potential safety problem for you.
Repairing A Garage Apron
Apron repairs one of the services we specialize in. It is often part of our process of repairing a customer's driveway. If you find that, in addition to cracks and pits appearing in your driveway, you also have cracks forming in your garage apron, Seal King can do the job of repairing both. Now is an ideal time to have this work done, too. During the warmer weather months, it is more likely that families will be able to take advantage of vacation time while we do the work to restore their driveways and garage aprons. Of course, even if you are not able to enjoy some time away, we are able to minimize the disruption to your lifestyle by working quickly and efficiently, without causing undue disturbance of your family's lifestyle.
Knowing that your garage apron has been repaired, however, could be worth a few days' worth of altering your parking habits. Repairing a garage apron means halting whatever processes of degradation of the apron material is taking place. That means preventing further damage to the structure of your garage and your house, at least as a result of the damage to the garage apron. We apply the same exacting standards to the repair of garage aprons as we do when sealcoating your driveway. We create precision edges and ensure the strongest possible repairs to concrete and asphalt surfaces.
Professional Sealcoating Services And Apron Repair
As appealing as our work is to the human eye, that is still secondary to the peace of mind we provide by increasing the longevity of driveways and garage aprons. When the foundational elements of your property are in good shape, the long-term structural soundness of your house is also protected. With many Seal King locations, all over the Minnesota, Wisconsin and Iowa area, you can find a convenient location near you!