Importance of Sealcoating your Driveway after Winter
Posted In: Asphalt Sealcoating
Published On: May 26 2018
Written By: Seal King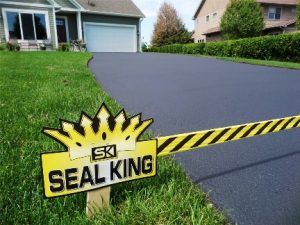 As we all welcome the spring, it's time to also start thinking about your spring checklist. On the top of that list should absolutely include calling Seal King Professional Sealcoating and utilizing our professional sealcoating services. Sealcoating your driveway after winter is extremely important and our experts at Seal King are here to tell you why.
Hello, Moisture! As the snow melts and those spring showers ramp up, a lot of moisture can begin to build within your driveway. For anyone that has ever had an asphalt driveway for any amount of time, they will tell you that driveways and moisture just do not mix. As the precipitation falls, water and moisture begin to seep down and build up underneath the driveway. Unfortunately, this causes our driveways to crack and create potholes. For moisture reasons alone, sealcoating your driveway after winter is worth it.
Get It While it is Hot…Or At Least Warm!
The best months to sealcoat your driveway happen to be between April and November. We choose these months because, from a temperature standpoint, the sealcoating process yields better results. Having an ideal temperature creates an atmosphere in which our sealcoating products can provide you with long, lasting results.
Keep Your Driveway Maintained
Weather, sunlight and traffic on the driveway are some of the main reasons that asphalt often cracks and becomes brittle. After the winter, your driveway may look beaten and worn down from the effects of the harsh winter. To help preserve your driveway, keep your asphalt fresh and clean with our sealcoating application. Sealcoating keeps your driveway looking new and protected from any further damage. Keeping it fresh is a great way to keep your driveway protected for a long time.
Importance of Sealcoating your Driveway after Winter
Since we all now know that sealcoating your driveway after the winter is important, it's time to also understand that not all sealcoating companies are the same. After the winter, you need a company that is going to perform a quality sealcoating job. At Seal King Professional Sealcoating, we only use the highest performing products on the market. Our technique and dedication to customer service beats out any other sealcoating company on the market.
If you are ready to sealcoat your driveway after this harsh winter, don't wait another day. Now is the time to get your driveway protected. For more information or to book your sealcoating appointment, give Seal King Professional Sealcoating a call today. To find a location near you, visit us at https://www.sealking.com.