Keeping Your Driveway Strong At An Affordable Price
Posted In: Driveway Sealing Companies
Published On: August 23 2021
Written By: Seal King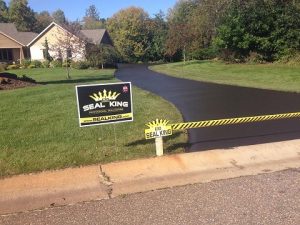 You may not pay much attention to the state of your driveway on a daily basis, however, it does have a big impact on the overall curb appeal of your property. A worn down, old driveway can take away from the look of your beautiful home. For many homeowners, they assume that enhancing its look and keeping the driveway strong is a very expensive expense. However, thanks to our exceptional driveway sealcoating services at Seal King Professional Sealcoating, you can keep your driveway strong and attractive at an affordable price!
Driveway Sealcoating Application
It is inevitable that over time, your driveway will age. It will also change colors, weaken and may break down. So, before you assume that asphalt replacement is your only option, we encourage you to take a look at our driveway sealcoating application. This is an affordable way to revitalize your existing asphalt without having to pay a fortune for it to be replaced. We offer professional sealcoating services that are geared around our proven 10-step sealcoating process. This process helps ensure that our team never misses a step, and the Seal King sealcoating application process includes the following:
● Power Edging
● Power Edge Cleaning
● Power Sweeping & Blowing
● Treatment of Oil Spots
● 400 Degree Rubber Crack Filling
● 400 Degree Joint Filling
● Driveway Edging Brush
● Seal King Sealer
● Brush Application
● Barricade Driveway
Service is a Priority
We're more than just a sealcoating company. Our goal is to provide our clients with elite service from beginning to end. We take pride in offering our clients the most professional and high-quality sealcoating services around. We utilize the best sealcoating products available on all of our projects. The use of Premium Petroleum based emulsion pavement sealers with high performance polymer additives and Black Diamond Coal Slag ensures that our sealcoating application is long lasting and durable even against the toughest weather conditions. There are never any hidden charges with our services, so you will not be surprised by any unexpected expenses.
Ready to give your driveway a face lift at an affordable price? If so, our team at Seal King Professional Sealcoating specializes in keeping your driveway strong at an affordable price.You don't have to empty your bank account to freshen the look of your asphalt. To learn more about our sealcoating application or to find a Seal King Professional Sealcoating location nearest you, visit www.sealking.com today.