Parking Lot Repair and Sealcoating
Posted In: Asphalt Maintenance
Published On: August 05 2017
Written By: Seal King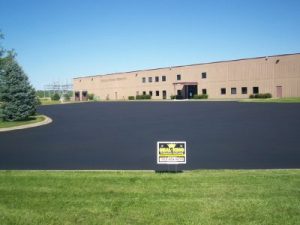 Seal King Professional Sealcoating serves the people of St. Paul and the surrounding areas in Minnesota and Wisconsin. Among the many sealcoating services offered by Seal King is parking lot repair. The extreme climate variations of Minnesota mean that parking and driving surfaces are stressed on an annual basis. The extreme cold of winter and the occasional high heat of summer can do a number on your parking lot, driveway or sidewalk, as well as other hard surfaces around your home or business. You will notice cracks, discoloration and changes in texture that indicate that these surfaces are vulnerable. This is a clear sign that your parking lot or driveway needs protection. Sealcoating is an affordable way to provide this protection, extend the life of the area, and protect it from the elements.
Sealcoating Services, St. Paul MN
If your driveway, or the parking lot of the business you own, or the apartment complex you manage has begun to show signs of wear and tear, you should consider contacting Seal King. Seal King is among the best, if not THE best, asphalt repair and seal-coating surface company in the area. We offer high quality service at competitive prices, and we would rather establish a long-term relationship with our customers than simply take the money off of someone who needed their help in a pinch. Many sealcoating companies offer a $99 sealcoating special – but these companies often cut corners, use products that will not last, and fail to apply the sealcoating with care.
Seal King works diligently to create good relationships with their clients and to provide high quality sealcoating services for each and every job. In addition to sealcoating and parking lot repair, we can offer repairs to asphalt parking lots, asphalt pathways, potholes, cracks in asphalt, and asphalt line painting. One of the things that sets our company apart is The Seal King Promise. The promise made to customers is that they will be treated honesty, fairly, and respectfully. And demonstrating the importance of the Seal King promise is that they put their money where their mouth is—in their pricing schedule. Seal King wants your business long-term, not just in the moment. You are more than just a parking lot repair contract to them. And, if you are not completely satisfied with your Seal King service, contact us before winter and we will work to resolve the issue to your satisfaction.
Protect Your Parking Lot
When the extremes of Minnesota weather take a toll on your parking lot or driveway, invest your own time and energy to get it repaired properly and protected by Seal King. With locations all over the MN and WI area, find a Seal King near you!