Prepare Your Property's Asphalt For Winter
Posted In: Asphalt Maintenance
Published On: October 06 2021
Written By: Seal King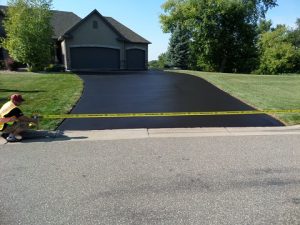 Water is one of the most important substances on earth. Humans, plants and animals all need it to survive. Rain brings fresh water to the earth's surface and aids with many things including agriculture, industry and even our electrical energy. However, that same rainwater that allows plants to grow, and provides critical nourishment to wild animals and humans, can also cause some problems for our asphalt, parking lots and driveways. Over time, moisture from rain can seep into the asphalt and create cracks and potholes making driving (or walking) treacherous. Sealcoating is one option to combat the negative effects of moisture and weathering on your driveway and to keep your home or business looking its best.
Prevent Damage to Asphalt Surfaces
Your asphalt is exposed to the elements 24/7. There are no breaks, and we all know what kind of weather we can have in the Minnesota area. Rain, snow, sun and wind can cause significant problems in a parking lot, driveway, sidewalk or other asphalt surface. Professional sealcoating can minimize the cracks and holes that will develop over time and can help prevent damage that can cause cars and pedestrians a problem. The exterior of your home or business says a lot about you – make sure that you give your guests a positive first impression with a safe and smooth driveway, sidewalk and/or parking lot. Our sealcoating services will also prevent cracks from forming.
Seal King uses a high-quality sealer to do our work, and we never cut corners with our work. Our sealcoating process is thorough and consistent, and we strive to make sure that all of our customers are satisfied with our work. Our staff is trained to follow a careful 10-step process so that you can be confident in our final product. This is what we call the Seal King Promise. If you are not satisfied with our work for some reason, just reach out and we will make it right.
Professional Sealcoating Services in Minnesota
As fall begins and winter is on the horizon, our weather will take another turn. Winter weather is the most grueling time of the year and the snow, sleet and ice that falls can cause significant problems for parking lots, driveways, sidewalks and other asphalt surfaces. Being proactive now by hiring Seal King to apply sealcoating will protect these surfaces from the moisture that comes with the winter months. There are Seal King locations all over Minnesota – find one near you today!