Professional Asphalt Sealer
Posted In: Asphalt Maintenance
Published On: May 19 2020
Written By: Seal King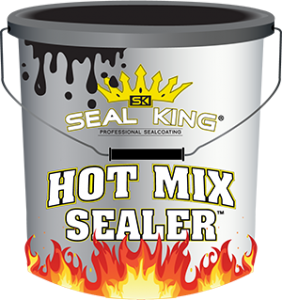 Asphalt is definitely an extremely durable material, but over time, it can wear down. Potholes, cracks and a worn-down look are common signs that your residential or commercial asphalt may need a professional asphalt seal. Serving Minnesota as a professional asphalt sealer, our team at Seal King Professional Sealcoating is here to offer an affordable way to strengthen and boost the look of your asphalt.
The driveway is the first part of your property that you and your guests come into contact with. If you feel like your worn down and cracked driveway is taking away from the overall look of your home, Seal King has an affordable option for you. Rather than replacing your asphalt, why not invest in our professional asphalt seal. Ask one of our reps to show you before and after pictures. Many a customer of Seal King's have assumed there only option was to replace their driveway of parking lot.
Driveway Asphalt Sealer
Through our effective asphalt sealing, we'll bring a fresh, new look to your driveway, while also providing it with added protection from mother nature. Our top-notch asphalt sealer holds up extremely well against the tough Minnesota weather, regular vehicle traffic and the effects of sunlight. Thanks to our 10- step residential sealcoating application, you can rest assured that your driveway asphalt seal will be done with extreme precision.
Parking Lot Asphalt Sealer
As a business owner, the last thing that you want to happen is for one of your potential or existing clients to damage their vehicle because of the potholes and cracks throughout your commercial parking lot. At Seal King Professional Sealcoating, our professional asphalt sealers know how to fix any asphalt damage that you may have. From there, we'll apply our high-quality asphalt sealer to ensure that your parking lot remains in great shape for the long haul. Since we use the strongest asphalt seal materials available, your parking lot will not only look great, but it will also be protected from weathering, oxidation and gas or oil spills.
Whether you have a residential or commercial property in need of professional asphalt sealer services, Seal King Professional Sealcoating should be your choice in Minnesota. Dating back to 1991, our staff has been providing elite sealcoating services that are far superior than our competition. Our work is backed by our experience, high-quality materials, and great pricing. This is an investment that you and your asphalt will not regret! To find a Seal King Professional Sealcoating in Minnesota nearest you, visit www.sealking.com today.