Residential Sealcoating in St. Paul, MN
Posted In: Crack Filling
Published On: November 07 2019
Written By: Seal King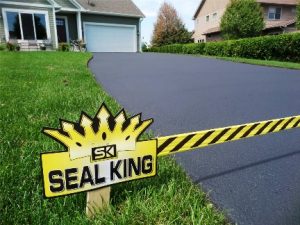 It's funny how little we think about our driveways and sidewalks until something is wrong with it. A pothole or large crack in the driveway is almost like a back injury. We never really realize how much we rely on it until it's compromised one day. At Seal King Professional Sealcoating, we want to keep your driveway as strong and "healthy" as possible. Sealcoating is a great option for any asphalt driveway, patio or sidewalk. If you have asphalt on your residential property, let Seal King Professional Sealcoating keep it looking beautiful and strong for years to come. After all, your home is the biggest investment you will ever make!
Asphalt Breakdown
Quickly think about how many times a day you use your asphalt. Do you drive on it? Do you walk on it? Do your children ride their bikes all over it? Between the weather, sunlight, and the daily traffic that your asphalt experiences, your space will inevitably start to lose its beauty. The "newness" will begin to fade and change in color and texture. The material itself will begin to get brittle and become prone to cracking. The cracking can lead to even bigger problems like potholes. Seal King Professional Sealcoating aids in this process by dramatically slowing it down. Our sealcoating solution provides a protective layer to the asphalt that keeps it lasting longer looking fresh! It is absolutely a necessary investment to anyone that owns asphalt property.
Sealcoating Services
At Seal King Professional Sealcoating, we are passionate about getting it right. We want our customers to know that they aren't getting a hoax job. Every sealcoating service we perform is done using the best products and techniques on the market. Our process for applying is solidified from start to finish so that our professionals never miss a step. From power edging and cleaning the side of your asphalt to barricading the driveway in the end, our professionals do an excellent job at applying a premiere product that will give our customers the highest quality product and process possible.
If you have been thinking about doing residential sealcoating services in St. Paul, MN, give Seal King Professional Sealcoating a call today. We are so confident in our work that we provide the Seal King Promise. That's right. If you are not completely satisfied with our services, call us before the next winter season, and we will work with you to correct any discrepancies. For more information about our residential sealcoating services in St. Paul, MN, give us a call today at (651) 274-5113.