Sunken Garage Apron Repair
Posted In: Apron Repair
Published On: January 19 2021
Written By: Seal King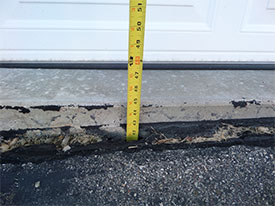 Sunken aprons by the garage are not fun. They can tear your vehicle up, trip you up when walking, can cause further structural damage to your garage and driveway, and they simply look awful. As someone pulls in your driveway they will see your damaged garage apron. As they leave again, they will see your damaged garage apron. At Seal King Professional Sealcoating, we aim to fix your garage apron and restore it to as good as new. If you are looking for a professional garage apron repair company, look no further than our team of experts here at Seal King.
What Is A Garage Apron?
Not exactly sure what we are talking about? A garage apron is the asphalt that connects your driveway to your garage. This is an extremely important component to both your garage and driveway as it ensures stability for both your driveway and your garage foundation. No matter how great your installation may have been originally, it's not uncommon for driveways to gradually sink overtime. As it sinks, the garage apron and your actual garage floor become unaligned with each other. This unevenness will create a gap of space that can begin to cause large damages to all affected areas. Allowing us to repair your garage apron fixes that problem and helps prevent future cracks and damage to both your driveway and your garage floor.
When you call our team of professionals, we will come out and assess your garage apron. We will determine the steps that need to be taken to repair your garage apron properly. In general, we follow a procedure that allows us to never miss a crucial component of the repair. Just like any type of asphalt job, much of the work includes knowledge and preparation. First our team will measure exactly what we need to do and properly mark the area that needs to be repaired.
Garage Apron Repair
We will carefully cut along the measured lines and carefully remove the damaged areas that have begun to sink. We will then begin to fill those holes with new, compacted gravel and then add another layer of base gravel. This process makes it much less likely for settling to reoccur again. Once we have reached the proper height, new asphalt is applied and leveled out. Plate compactors are then used to give it the most professional and aesthetically pleasing look. Our professionals will clean the entire area of any debris that may have occurred and block the area off with banners for 24-36 hours. Then, you can once again, confidently enjoy your driveway and garage.
Want to know more about our processes at Seal King Professional Sealcoating? For more information about our garage apron repair services, give us a call or visit us online today. To find your nearest Seal King location, visit us today at www.sealking.com.