Welcome To Seal King Professional Seal Coating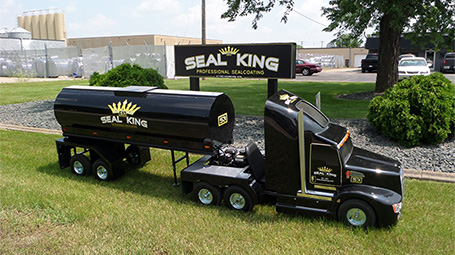 Seal King was founded in 1991 by the current owner and CEO, Ben Nelson. Seal King started as a one man operation with minimal tools and equipment, and focused mainly on residential driveway sealcoating. The company originated in Lakeville, Minnesota and continued for 2 years in Mankato, Minnesota while Ben Nelson attended Mankato State University.
In 1993 the company moved operations to Eagan and began to operate with a small fleet of trucks and trailers from an outdoor storage lot. Seal King moved again in 1995 to Savage, Minnesota and rented a large outdoor storage lot with an onsite construction office trailer. During the same year, Seal King began the franchise development program and sold the first franchise in Bloomington, Minnesota.
In 2000 the Seal King Franchise program spread into Wisconsin and Iowa. Seal King's operations soon outgrew the storage lot and office trailer. In 2001 Seal King purchased a 6000 sq ft office / warehouse in the Air Lake Industrial Park in Lakeville, Minnesota. This would become the new home and corporate headquarters.