Seal King Google Reviews & Customer Testimonials

---

---

---

---

---

---
"Dear Heather, Chad Schmidt and all the good folks at SealKing. We want to sincerely thank all of you as our driveway has not looked this good in over thirty years! Your fellows who worked on it are quite special, professional and very hard workers. Ms Lindsey, hope that is how she spells it, who made us the bid was excellent too. She was friendly, efficient and also very professional. It is obvious that all of your employees are happy to work at SealKing. The wife and I spent much of our working lives serving customers so we appreciate so much the special attention you all gave us. Thanks very much from the bottom of our hearts and may God bless all of you."
Sam and Carole B. – Wisconsin
---











---
"I just wanted to say what a great job all of your guys did on my driveway today. Thanks, and please tell them thanks as well!"
Daniel B. – Eden Prairie
---
"Hello Ben,
Just got home and I'm very impressed with your work! I have tried one other company in the past, and there is no comparison. Great job!
Thank you very much!"
---
"Good Morning!
Your guys came out yesterday to our home and did the blacktopping on our driveway and we wanted to thank them and you for such a professional job! In the past we have always done business with Jet-Black… but Terry said "Never again…" They did a great job during the hottest part of the day …finished quickly ……and it looks great.
Thanks Seal King!"
Carol & Terry Claugherty
---
"These guys do an awesome job! Highly recommend!"
&mdash John Barstow – Minneapolis, MN
---
"Hi Heather,
I want to thank you for speaking to the owner, Chad Schmit, and please also thank Chad for extending the offered price last year to this year.
Adam and his crew just finished my driveway and it looks great, Adam does a great job for Seal King and their customers. Adam has my check for your services today.
It was a pleasure to visit with Chad personally last week – Chad you have great employees and run a good business and it is appreciated.
Again Thank You."
&mdash Duane J. Bauer – Menomonie, WI
---
"Hey Ben,
Just wanted to let you know that a couple of my neighbors went out of their way to tell me that they thought Sealking did a great job! We are noticing the thicker, richer look of our driveways.
For me, durability will be the true test and selling point.
Thanks again!"
— Kip Paterson
---
"Chad, Tanya, Tyler and Heather
I just wanted to say thank you for everything you did on the driveway this year, it looks like a million bucks. The crew that came out this morning did an outstanding job! I can already see that the crack filling work that Tyler did is superior in both product and workmanship to any crack filling work we've had done before. Please thank him for being a perfectionist and for doing such good work. The attention to detail that everyone has shown is what we were looking for and we'll definitely be calling in 2 – 3 years for another application. Please extend our thanks to everyone on the crews that were out to our house."
— Steve & Gail K. – Wyoming, MN
---
"I got your voice message the other day. Sorry for the delayed response.
Absolutely, you guys did a fine job!!!!!! Your crew of three made short work of the project. I think they were done in about 3 hours. The surface looks great. It has a very even appearance that everyone likes. Also, the crackfill was done very nicely. It's smooth and even. I received comments on that, too. The edges were also done very well. Your team foreman, Logan (please forgive if I have the name wrong, I'm terrible with names), was very friendly and courteous. He also made sure that any questions I had were answered, both before work began and again afterward. And he told me that before they began he would go to each house to be sure that all cars were out. Very thorough! Everyone worked hard and stayed on task. As you and I spoke, that's great to see these days.
When I handed Logan four checks, three with one amount and one of a different amount, none of them with a nice round number. He glanced at them (5 digits in each amount) and added the total in his head in less than 5 seconds. Very impressive!!! He has a head for numbers.
I want to thank you very much for working with us, for coming out and helping us understand the situation and the product. When I shared what you told me with the neighbors, it was unanimous to go forward with Seal King. So, from my perspective it was time well spent. Even better, I was able to make the case for crackfill each year and sealcoat every 2-3 years. And better yet, I also made the case to work with one company. I know you perfer not to, but you are welcome to put us first on your list for crackfill next spring. Next year, I will try to call earlier than this year, and going forward without delays on our end, perhaps we can have the cracks filled before a week with 1/4 of our annual rainfall (my rain gauge recorded 8 inches during the 6 days before the work). Yikes!
Please tell your crew that we really appreciate the work they did. Everyone deserves to get some good news, not just hear the bad things.
And thanks to Heather, too, for coordinating, and providing information that helped me make the case. Heather is really friendly and helpful!
And finally, thank you, Chad, for following up with your phone call on the day of the work. Sorry again, that I missed your call.
On behalf of Mesa Ridge North, thanks again and best regards.
See you next year!"
— Tom Tock
---
First Name – David
City/State/Zip: – White Bear lake
Additional Questions or Comments: – Your guys were out today and sealed my driveway. I just wanted to say that I was very impressed and happy. They did it quickly, efficiently and very professionally. I will be a return customer as well as recommend you if someone I know needs your service in the future. Thank you.
---
First Name – Nate
City/State/Zip: – Vadnais Heights/MN/55127
Type of Property: – Residential
Would You Like A Free Estimate? – Yes
Would You Like To Schedule Your Job? – Yes
How Did You Hear About Seal King? – Flyer
Driveway Information: – Larger than 1000 sq. ft
Additional Questions or Comments: – Received a flyer in our mailbox saying you will be in our neighborhood on August 9-10. Our driveway is 18'x58′ (1044sqft). You also sealed our neighbors driveway and it looks really good.
---
First Name – Joy
City/State/Zip: – Hanover, MN 55341
Type of Property: – Residential
Would You Like A Free Estimate? – Yes
Would You Like To Schedule Your Job? – No
How Did You Hear About Seal King? – Flyer
Driveway Information: – 3 Car Garage up to 1000 sq. ft
Additional Questions or Comments: – Would like to know price before scheduling job. However, have heard good things about you guys. If all seems well, would like to do ASAP.
---
First Name: – Patti and Dan
City/State/Zip: – Eagan, MN 55123
Type of Property: – Residential
Would You Like A Free Estimate? – Yes
Would You Like To Schedule Your Job? – Yes
How Did You Hear About Seal King? – Other
If Other, Please Specify: – Viewed other properties that have work done by Seal King.
Driveway Information: – 3 Car Garage up to 1000 sq. ft
Additional Questions or Comments: – We have done patching on the driveway and now want it sealcoated in an attempt to prolong the life. We have seen your work and have been impressed by the quality.
---
Thank you for the fast response. I would like to say our drive way looks 100 times better, thank you.
Cory B.
---
Facebook Review from 8/2/15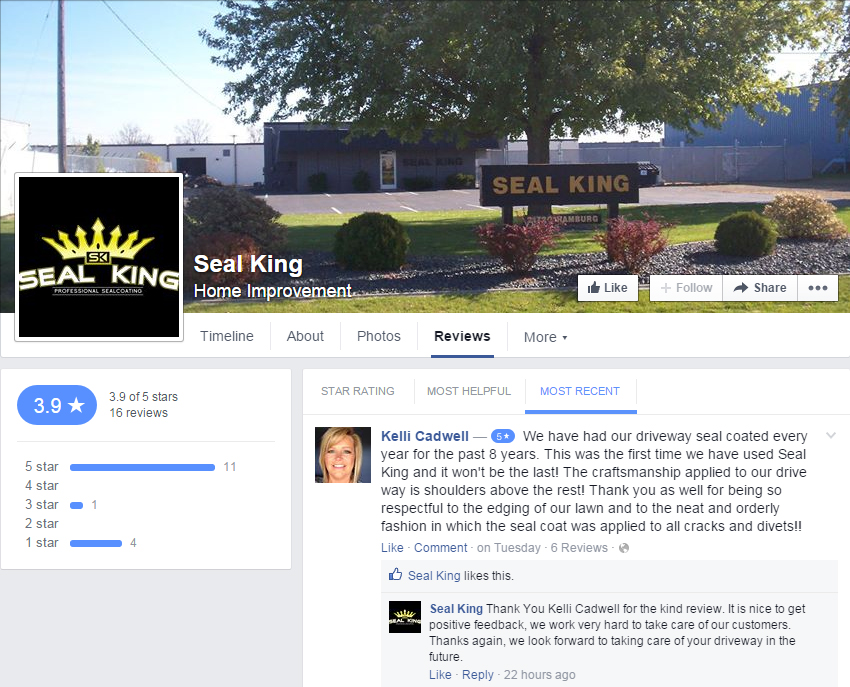 ---
How Did You Hear About Seal King? – Other
If Other, Please Specify: – Saw a driveway done in Nfld, impressed with the work!
Kate B. – Another recent contact form we received.
---
You recently did a seal coating just down the block from my business and I was impressed with the work that was done. Would like to get an estimate for the parking lot of my business.
Charles S. – A recent contact form we received.
---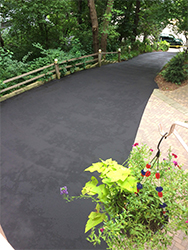 Ben and Bridget,
Thanks so much for your persistence through the inclement weather to reschedule my driveway sealcoating.
Your guys were here early this morning, finished the job promptly and did a great job. It looks like new!
Bridget, special thanks to you for your efforts in getting this done.
We are very grateful!
Sincerely,
Tom and Ruth King
---
To whom this may concern at SEALKING COMPANY:
The day after my driveway was measured, I received a call from Bridget to make an appointment to have my driveway seal coated. Bridget was very positive and knowledgeable about your business. We made an an appointment to have the work done on Wednesday morning (9-4-2013). Two men arrived in mid morning, surveyed the driveway and went right to work prepairing the driveway for the sealcoat. These two men (Aron and Nate) worked like a machine, each knowing what to do and when to help the other. I was impressed with their work ethic and their knowledge of the business. After completing the job, they asked me if I could see anything they missed, I could not and we all smiled. I was very satisfied with the job and with the personnel I was in contact with. I will recommend SEALKING COMPANY to everyone.
Sincerely,
Robert McDonald
---
I'd like to take this opportunity to thank Jenifer in your office for all the help she has been to me. I spent a lot of time researching various companies for seal coating and replacing some driveway aprons for myself and many of my neighbors. I had numerous questions and Jen was extremely helpful, answered all my questions and got back to me in very quickly. None of the other companies did this as professional and quickly as Jen. There are approximately 30+ homes in my neighborhood that want your services and because of Jen's help my decision was easy to make. I am looking forward to meeting you and the rest of your staff.
Sincerely,
Robert & Debby – White Oaks Neighborhood – Champlin, MN
---
Thank you for your prompt and great service!!!
– The Larsons, Eagan MN
---
On July 6, 2012, Blaine's crew had sealed our driveway – we had used Seal King previously and knew what to expect. Unfortunately, this time when the work was performed the temperature in Blaine was 102 +/- degrees which I believe caused the product to "setup" too quickly – the driveway could be walked on within 10 minutes after the crew had left. Beginning in October and continuing throughout the winter I noticed that the seal coat was lifting from the driveway in pieces ranging from a 1/2 inch diameter to 2 1/2 inches in diameter. When spring arrived the driveway had a "blotchy" appearance representing areas where the seal coat had adhered and areas where it had flaked off.
With the above being said, on August 1st I reached out to Blaine and described the problem that I had been experiencing. In response, Blaine stated that he would swing by and look and my driveway and advise as to what could/should be done. He also gave me a heads up that due to his schedule this may take a while. Realizing that Blaine was probably running his butt off I took pictures and mailed them to him. On August 30th Blaine called to advise that he would have a crew at our house on Tuesday, September 3rd to redo the driveway. I told him that I would sweep and power wash (2,800 psi washer) the driveway to prepare the surface for his crew.
Today, September 3rd, his crew arrived and re-coated the driveway…just as promised.
Bottom line is simply that Blaine not only met my expectations but exceeded them with his commitment to excellence. If you have rewards for customer service by your franchise managers please include Blaine in the running. After retiring from 25+ years of commercial property management and maintenance management I wish I would have met Blaine many, many years ago.
GREAT JOB BY A GREAT MANAGER, GREAT TEAM AND GREAT COMPANY!
– Bruce Bednarek, Blaine, MN
---
I just wanted to say Thank You. I was just driving to work this morning (1/28) and with the roads covered in snow and a quick change of the stoplight my car did a little spin and got stuck on a curb. Two gentlemen from Seal King pulling out of the Holiday stopped to give me a quick push (I'm sure laughing at me that I tried on my own.) It was so nice of them to give a push and get me back on the road. It's great to know there are still good neighbors out there willing to give a hand. I'll pay the kindness forward. Thank you! PS-It wasn't until they drove by did I realize they were from Seal King- you guys sealed my driveway last summer. Double Thank you!
Sincerely,
Krista P – Bloomington, MN
---
A quick note to let you know I was very impressed with your team that seal-coated my driveway. It looks like the oil spots I had tried to clean up the best I could have been covered. And the job was very neatly done. I will be calling the Better Business Bureau and giving you an 'A' rating! Please pass on my thanks to your workers, and thank you yourself for the confidence and trust you have for your company.
I will pass on your company name to anyone who asks about seal-coating, and if God allows me to still be here in a few years, I will use your company the next time needed!
God bless you and your company, and again, thank you!
– Jean B.
---
I am writing this letter to thank your company, Seal King, for the job well done on sealing all the roads and dealing with the 232 homeowners at our property in Burnsville. Within the three weeks from beginning to end, your company showed diligence and dedication to finish the work according to the schedule which greatly benefited each and every owner of the townhome association.
Even though there could have been many issues along the course of time of the project, your company showed great efficiency in communicating with the 232 owners as needed. This all resulted in a job well done.
Again, I would like to express my gratitude in providing 110% in completing the roads and driveway project. We would not hesitate to refer Seal King to other organizations that are also in need of quality services from a contractor.
I hope this project will be the start of our continuous relationship and future success.
Sincerely,
Darlene Henry
Priority One Management, Inc
---
The guys that sealed our driveway yesterday did a wonderful job. We used Seal King 3 years ago and were not disappointed then and are very happy with the work done this year, too.
Thanks for having employees that care about their jobs and do nice work.
-Joyce
---
I just wanted to share that Seal King did our driveway yesterday and we could not be happier. I just wanted you to know what a super job they did. They trimmed the edges, didn't spill on our newly painted foundation, can't even see where they repaired and they finished off the edges. I have already referred them to three people just this morning. Thanks for taking the time to care about the workmanship and doing such a top-notch job.
Deb and Paul, New Richmond, Wisconsin – May 2009
---
Thank you for providing exemplary seal coating of our driveways this past week. I appreciate your responsiveness and attention to detail. We have received several compliments from homeowners regarding the service, care, and the professionalism of your staff.
It's good to know there are still vendors that do what they say they are going to do. I finally have a seal coat company I can trust and highly recommend Seal King. I look forward to working with you again.
Thomas W. Weninger
President
Courthomes of Carrolwood Condominium Association, Inc.
---
In June of this year, Seal King of Lakeville did some asphalt patching and seal coated both of our resident parking lots and our fire lanes. Every person that I spoke to and worked with within their organization was professional and friendly from beginning to end. We ran into a situation where we thought we would need to reschedule, but Seal King was able to accommodate us and the job was finished within the original time frame.
The entire process was seamless, and our lots look fantastic! I would highly recommend Seal King of Lakeville to any organization.
Thank you, Ben and team!
Sincerely,
Jaime Teigen
Business Manager
Town Centre at Lexington | 07/08/2008
---
Dear Ben:
I would like to take the time to compliment you and your staff on the quality of work done in our parking lot. The parking lot looks like new! We appreciate you working over the weekend to eliminate any disruption to our schedule. With the number of employees we have, it would have been quite a parking nightmare.
You are to be commended on the quality of work, completing the work on time and as promised. I highly recommend you and your staff for a job well done.
Sincerely,
Patty Anderson
Designed Cabinets, Inc.
---
Dear Ben:
I'm writing you this letter to offer my comments about your recent work on out lot. First, I think that you and your crew did an excellent job at sealing out lot. I particularly appreciated the fact that you personally took part in each phase of the work. Second, I was very pleased that you and your crew complete the work on schedule, and that you delivered everything that you promised. Third, I think that your price was very fair given the size of out lot, and given that the sealant needed to be custom-mixed. Finally, I found you to be very easy to work with and very responsive to our needs.
Ben, I would not hesitate to recommend you to others in the Lakeville area. Thanks again for a job well done.
Sincerely,
Stephen B. Venable
President & Owner
Lakeville Ford Mercury
---
Seal King repaired and sealcoated our entire 35,000 sq ft parking lot. We are very pleased with the quality of work and the professional manner in which the job was performed. We have had several other firms do the same job but none were as well done as Seal King. We will call on Seal King for all our future needs.
Wayne Doyle
President Midwest Vending, Bloomington
---
I thought I would take a moment to tell you how pleased we are with the seal coating and crack filling of our parking lot. We have received many compliments from our employees and customers. We appreciate you working around our schedule and limited parking. Thank you for an excellent job.
Ralph Peterson, General Manager – Elliot Aviation, Eden Prairie
---
Last fall, Seal King applied seal coating to approximately 65,000 sq ft of driveways at the Lakewood Townhome Association. The work was done efficiently and according to schedule. At this point we are more than satisfied with the work.
J. Otto Tennant, President
Lakewood Townhomes, Eagan
---
We were very pleased with the professionalism of your business. The driveway looks great and we will definitely recommend you to others. Thanks for doing such great business with us!
Heidi & Dan Sanderson
---
Ben,
I just wanted to say what a great experience I had with your organization. I am a realtor & will recommend you to all my clients.
From the time I saw your truck go by & wrote the number down (although the number was hard to read in gold), to my phone call to place service, to the 2 wonderful young men who showed up to do the work, to the thank you card I received one day after…
Awesome, exemplary service! BRAVO. Again, I want to praise the nice young men for the conscientious job they did. They were polite, and represented your company well. I was very impressed.
Thank you,
Dianne Priebe
8/03/05
---
Thank you for the nice job your team did on seal coating our driveway. They were punctual and professional in completing their operation. The edging of the driveway and the seal coating gives our home a very finished look with great curb appeal besides the protective benefits of the seal coating.
We look forward to working with you in the future. Thanks again.
-The Peterson family.
---
I just had my driveway sealed. By the nicest and finest young men! I told them my concerns. It was then that I found out how polite they were. And I felt I could calm down some. Then, I saw their work ethic in action. My driveway looks great!
These guys worked on it like it was their own driveway; like they were to be future owners of the company! Neat, clean, looks like new – a job very well done!
You are so fortunate to have such workers and we as the customer are fortunate as well. They said every two years I should call and have my driveway redone. You will hear from me again most assuredly. I am more than pleased!
Thank you,
Stephen Bratager
---
Seal King is doing a GREAT job here in Southcross townhomes, it just looks beautiful here! AND, the guys that are doing it are very, very nice! I am very impressed with Seal King.
Mary Kinsella
Burnsville, MN