Asphalt Driveway Repair Services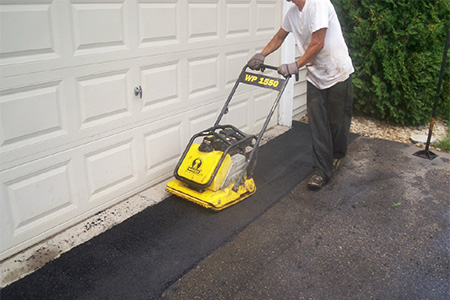 Is your driveway showing signs of stress? Do your children complain about it after rollerblading? Are they expecting it to be smooth as an ice rink? Whether spring has finally come and you're repairing all the leftover signs of winter, or if winter is on its way and you want to fix the cracks before the snow comes, so that this is finally the year that your snowblower doesn't get caught on them, it is probably time to repair your driveway with Seal King Professional Sealcoating. Seal King provides quality work at affordable prices.
We live in the Upper Midwest, and cracks in our driveways are inevitable. We drive on them, play on them, and party on them. And with the very enjoyable and not-at-all-extreme weather we get around these parts, our driveways are sure to suffer.
Fix Your Driveway Before It "Fixes" Your Car
We all know what it's like to drive over a big pothole. The jolt you feel in the car is just a portion of what your car feels. Potholes are annoying, and certainly no one wants them in their driveway. A big enough pothole can cause major problems for your car. Now, certainly it would have to be a pretty extreme situation for potholes to form in your driveway, but why let it get even close to that point?
Potholes form from cracks, and cracks form from moisture seeping into and under your driveway. The more people drive on these cracks, worse they get. And considering you're on your driveway probably every day means there's a pretty good chance of those cracks getting worse. They say that if you're good to your car, it will be good to you. The same can be said for your driveway.
Asphalt driveway crack repair fixes the cracks in your driveway and preventing water and dirt from seeping down to the base layer and creating bigger problems.
DIY or Relax With Your Family?
Why choose Seal King instead of doing the job yourself or hiring some bargain fixers? By the time you buy the materials and tools to do it yourself (provided you know how to repair your driveway and have to excess time to do it), our driveway repair specialists would be nearly complete with the repair job on your driveway. The cost of materials and tools also wouldn't be much less than hiring a professional, thus assuring you peace of mind that the job would be done right. As for the excess time mentioned above, who has that? Time is money, as they say, and you probably have much more valuable things to be doing with it than working on your cracked driveway. And as far as bargain fixers are concerned, usually that means cutting corners and using insufficient product and inexperienced help.
High Performance Driveway Repair Products
We use only the best products on the market today. Our liquid sealers have high grade polymer additives and silica sand so that your asphalt can stand up to extreme weather conditions and the dreaded PV. All of our products are stored in a climate-controlled warehouse to ensure a quality outcome for all of our driveway crack repairs. And although Minnesota can be harsh on us, at Seal King, we only use products that are safe for Minnesota.
Our process is simple to follow so our guys never miss a step and can provide you with the best results for your asphalt repair. Every asphalt repair project receives the highest level of Seal King service and professionalism. The steps for our more thorough asphalt repairs are as follows:
Click on the thumbnails to see our Asphalt Repair process in action:

Why Hire Sealcoating Professionals?
Seal King is a leader in asphalt driveway repair and has more than 15 years of experience in the field. Our work crews are licensed, fully insured, and directed to provide the most professional service and top-notch workmanship. We are a local company and each of our franchises are independently owned in the area that they serve. We use only the highest quality products so that we can give our customers the highest quality work. Call today to hear about our competitive prices. If you are not satisfied with the end result, call us before the end of the season and we will come out and correct the problem free of charge!
Return to Asphalt Repair