Affordable Commercial Seal Coating Company
Posted In: Asphalt Maintenance
Published On: August 06 2017
Written By: Seal King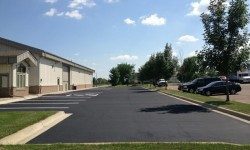 Seal King provides affordable and high quality commercial seal coating for businesses in the Southern Metro area of Minnesota. In fact, if you are located anywhere close to the Southern Metro area, Seal King should be your choice for sealing and enhancing the visual appeal and structural integrity of your company parking lot, loading dock, and/or walkways. Seal King offers the best possible customer service and a commitment to fulfilling every aspect of the contract you sign with them. The Seal King Promise is well known in the industry, and the staff of Seal King take it very seriously. Our business succeeds not just by sealcoating your business's parking lot, but because you have grown to trust our intentions, and consequently recommend them to other businesses because we have consistently surpassed your expectations.
Improve The Look Of Your Business With Sealcoating
Our staff provides a full range of seal-coating services, including repairs to asphalt parking lots, pathways, pothole repair, asphalt cracks, and asphalt line painting. Our team has risen to become Minnesota's premier sealcoating service precisely because we take our Seal King Promise seriously. Seal King has earned such a positive reputation because we are dedicated to excellent customer satisfaction, and we know that high-quality commercial seal-coating is only one part of the equation. Your satisfaction with the end-product and the process of reaching it is of equal importance.
A well-maintained parking lot is the first visual impression your commercial enterprise offers to potential clients. A properly seal-coated parking surface can therefore have an important impact on the impressions that potential clients have of your business. These factors can affect your business's bottom line. A parking lot or driveway that is pleasant to look at and drive on is important to maintaining your bottom line because it can help guarantee that your visitors think highly of your business. Sealcoating will extend the life of your parking lot and protect it from the harsh elements that come from living in Minnesota.
Seal King Promise To Our Customers
When you sign a contract with Seal King, you can feel confident in the association you have just made. Seal King is in the business of helping other local business succeed, and we do so by helping you make a good first impression on prospective clients and customers. The harsh winters of this region, and the wide hotter than hot temperatures that can happen during the summer months means that commercial parking lots will become degraded over time. But with a great company like Seal King to help you, it can be only a matter of time before your commercial enterprise looks exactly as you want it to. So whether you need simple maintenance with a new sealcoating or more extensive repairs to your business's parking lot, Seal King will offer you an affordable price. With Seal King locations all over the Southern Metro area, you will have no trouble finding one near you!