Affordable Parking Lot Facelift in Blaine, MN
Posted In: Asphalt Patch Repair
Published On: June 08 2021
Written By: Seal King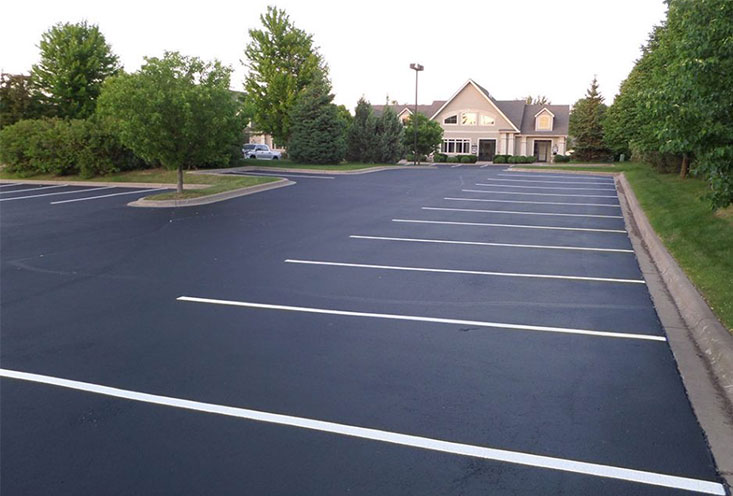 As a business owner, have you been embarrassed by the overall look and state of your parking lot? First impressions go a very long way in the eyes of clients, so it's understandable that you don't want their first experience on your property to be a bad one because of your worn down, damaged parking lot. You may be wondering if there's a way to give your parking lot a nice facelift without having to break the bank. Thanks to our team at Seal King Professional Sealcoating, the answer is yes! We are proud to offer affordable parking lot facelift services to individuals in the Blaine, MN area.
Long Lasting Sealer Application
You don't have to replace your parking lot's asphalt to achieve a fresh new look. For just a fraction of the cost, our dedicated asphalt experts can apply our long-lasting sealcoating application to your parking lot. There are other sealcoating providers in the area, but none that provide the quality sealcoating application as our crew. Whether your parking lots issue is weathering, aging, changes in color and texture, etc., our sealcoating application is the perfect option to provide an affordable facelift. Your parking lot will go through our proven 8 step commercial sealcoating process to ensure that you receive the best application possible. Not only does this application make your parking look like new again, but it also helps extend the life of the asphalt. Other benefits of our sealcoating application include:
Slower Oxidation
Less Weathering
Resistance Against Gas and Oil Spills
Slip Resistance
Parking Lot Repairs
If your parking lot is struggling from damage such as cracks or potholes, our experienced staff can handle your parking lot repairs with ease. The last thing that you want is for a client to damage their car because of your failing parking lot. The longer you delay these repairs, the worse the damage can get. So, it's time to let our parking lot repair professionals handle your needs once and for all. We will fix any cracks and potholes, and we will ensure that water and dirt aren't able to seep down to the base layer of your asphalt.
At Seal King Professional Sealcoating, we want you to be happy with the overall look of your commercial property. If your parking lot is an eyesore and needs repairs, it is time for you to commit to our affordable parking lot facelift services. To learn more about our sealcoating and parking lot repair services, contact our Blaine, MN location today at (763) 377-2220.