Affordable Parking Lot Seal Coating Contractor
Posted In: Asphalt Maintenance
Published On: July 07 2017
Written By: Seal King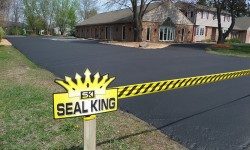 There is nothing like having a beautiful, asphalt parking lot. The only real problem is, can you get it to stay that way? Protecting your parking lot has become an important part in maintaining its integrity. At Seal King Professional Sealcoating, we offer affordable parking lot seal coating for many commercial properties in the Minnetonka, Maple Grove, and Plymouth, MN areas. If you are looking for a sealcoating contractor, look no further than your local Seal King location.
Why Sealcoating?
As a business, it's extremely important to provide an appropriate, safe place to allow potential clients, customers, and even employees, to park on site. Not only is it important to be aesthetically pleasing, but its value is really in safety. For asphalt parking lots that are not sealcoated, fading in color and texture is inevitable. With weather, sunlight, and just regular driving on the asphalt, the consequences way heavy at the expense of your parking lot. Asphalt can become brittle and therefore become more prone to cracking and even potholes. This is why sealcoating your parking lot is so important.
More Than Just a Clear Coat of Nail Polish
If you've ever had your nails done, or know someone that has, the last thing anyone ever does is put a clear coat of paint on it just to give it added protection. While sealcoating is much more than just a clear coat of nail polish, the idea is the same. We can't completely protect your parking lot from damage, but we can certainly prolong the quality and preserve the look for a longer period of time.
Choosing Seal King
Sure, there are cheap ads out there that offer something similar to Seal King Professional Sealcoating, but do they provide the same quality? We only use the best products available in today's market. We apply liquid sealers to your parking lot that have the ability to withstand all of the crazy Minnesota weather that is given to us year-round. We store all of our products in a climate-controlled facility so that you receive only the highest of quality when it's applied. We back everything with our Seal King Promise. If you aren't satisfied, contact us before the next winter season and we will come out and correct the issue. At Seal King, we always put our customers first.
For more information about an affordable parking lot sealcoating contractor in Minnetonka, Maple Grove, and Plymouth, MN, give the Seal King Professional Sealcoating team a call today at (763) 494-3493.