Asphalt Contractor Minnesota
Posted In: Asphalt Maintenance
Published On: May 05 2019
Written By: Seal Coating Team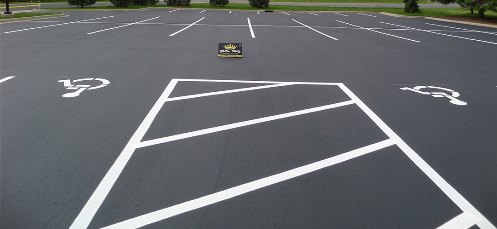 Seal King is an asphalt contractor in Minnesota serving the entire state for nearly thirty years, including St. Paul and Minneapolis, but also including such communities as Anoka, Blaine, Woodbury, Champlin, Duluth, Ham Lake, North Oaks, Richfield, Rochester, and every point in between.  On top our reach across the state, we only offer excellent services to our Minnesota residential and commercial clients who hire us for sealcoating services and asphalt repair or replacement.
The Seal King Promise
Seal King has built our reputation on two main categories: offering expert asphalt services and delivering these services with excellent customer service.  We love what we do, and we bring this passion to our work. Because we love what we do, we find ourselves wanting to please our customers perhaps more than any other local company.  The Seal King Promise captures our work ethic.  If you are not fully satisfied with any aspect of the work we have done for you, we will do everything we can to make it right.  And the reality is that it is usually very simple to fix a problem with your asphalt surface.  We take great pains to ensure that we prevent future issues with your asphalt.
Residential and Commercial Minnesota Sealcoating Services
Our asphalt services include residential sealcoating, commercial sealcoating, garage apron repair and other general asphalt repair. We can repair cracks in your driveway, a cracked sidewalk, dangerous potholes in your parking lot, or your garage floor and follow a 10-step process for each and every job.  The pride we have in our work comes from knowledge of our profession, which has led us to create and use the best quality sealer.  We combine our sealer with the best available raw materials, and hot-mix it all so that the end product adheres better than any other product available.  Hot mixing allows us to apply our asphalt sealer with greater smoothness.  It then hardens and provides a stronger end-product than our competitors can offer.  As a result, your asphalt surface is stronger and more durable.
Leading Minnesota Asphalt Repair
No matter where you live in Minnesota, we can repair and seal your asphalt surface.  We have four locations in St. Paul (North, South, West and St. Paul Park) and many other locations across the state, you will not have any trouble finding a Seal King near you. Call or stop by one of our locations to find out more about our asphalt repair services.