Asphalt Driveway Upkeep
Posted In: Asphalt Maintenance
Published On: October 19 2019
Written By: Seal King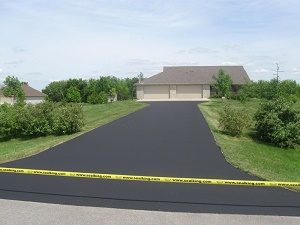 Winter weather and frigid temperatures can cause damage to many areas of the exterior of your home. Your roof, your siding and even your windows are vulnerable and can breakdown over time as they are hit with wind, rain, snow and freezing temperatures. Another thing to consider is what the elements can do to your asphalt driveway. You may notice and increase in cracks and discoloration as your driveway ages. In addition, freezing temperatures can cause the water that gets trapped below the driveway to freeze and expand, creating an even bigger driveway problem. Seal King can help you keep your driveway looking its best and safe for you, your family and your guests.
Professional Sealcoating Process
Sealcoating your asphalt driveway is a highly effective way to protect your asphalt driveway from the elements as well as from normal wear and tear. Our team has nearly thirty years of experience in residential sealcoating for homeowners in the Upper Midwest, including many locations in Minnesota, Wisconsin and Iowa. Our team is committed to giving you a higher quality product than local competitors, affordable pricing, a greater attention to detail, and professional customer service that is responsive, courteous and respectful.
Seal King's Promise to you is that you will receive expert sealcoating services for your driveway. We follow a careful ten step process to ensure our high quality product for each and every job we take on. These steps include:
1. Power Edging
2. Power Edge Cleaning
3. Power Sweeping & Blowing
4. Oil Spot Treatment
5. 400° Rubber Crack Filling
6. 400° Joint Filling
7. Driveway Edging Brush
8. Professional Seal King Sealer
9. Brush Application
10. Barricade Driveway
Residential Sealcoating Services to Protect your Asphalt Driveway
Now is a great time to take the necessary steps to protect your driveway from the elements. If you have noticed that your driveway has become brittle, cracked or has other damage, Seal King can help get your driveway back to its best possible condition. Our residential sealcoating services will protect it for many years to come as well, saving you time and money down the road. What sets us apart from other local sealcoating services is the quality of our work. You may see low dollar promotions from our competitors, but you can be sure that you get what you pay for. We keep our prices as low as possible and give you the best product on the market. For more information, call one of our convenient Seal King locations for details, pricing and to schedule an appointment.