Asphalt Parking Lot Repair Services
Posted In: Asphalt Repairs
Published On: August 25 2018
Written By: Seal King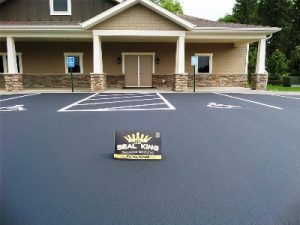 How's your commercial parking lot holding up these days? Have you recently received complaints from customers or clients about the potholes within your parking lot? Don't put a sour taste in your client's mouth the first time they come around because of your poorly functioning parking lot. Instead, let our dedicated commercial parking lot repair team at Seal King Professional Sealcoating handle all of your repair needs.
Commercial Sealcoating Saves Asphalt Replacement
There is just something about a parking lot that looks fresh, clean and smooth. This look will surely leave a great first impression with your clients or customers. The good news is that you don't have to replace your asphalt to accomplish this look. Thanks to our expertise in parking lot repairs and sealcoating, we offer a fresh new look to your commercial parking lot at a fraction of the cost that you'd be charged for asphalt replacement.
Professional Parking Lot Repairs
At Seal King Professional Sealcoating, we offer a wide range of parking lot repair services that you can tap into as our client. With more than 27 years of experience, we've mastered these repairs so that they are done right the first time around. If you're dealing with asphalt cracks throughout your parking lot, we've got you covered. We'll seal these cracks so that water doesn't make its way under your parking lot asphalt. If you've got potholes, we can remove the damaged area and patch it up with new asphalt. When it comes to quality, our parking lot sealer utilizes the best raw products, high performance additives and unique blackening agents to provide you with the best looking parking lot around! Don't be fooled by other parking lot repair companies that offer discounted prices. They're more than likely utilizing poor quality sealer and you'll end up having to call them back for more repairs in the near future.
Take pride in the overall look of your commercial parking lot. This is the first part of your property that your guests come into contact with, so make sure that you start things off with a great first impression. If you're in need of commercial parking lot repairs, our team at Seal King Professional Sealcoating is the perfect partner for you. Specializing in crack sealing, patching, asphalt overlay, as well as sealcoating, we're your one stop shop for parking lot repairs.