Asphalt Parking Lot Seal & Repair Services in Northern MN
Posted In: Asphalt Maintenance
Published On: November 17 2019
Written By: Seal King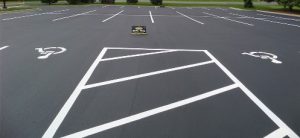 If your asphalt parking lot in Northern MN is an eyesore that is not only frustrating you as the property owner, but your guests as well, then it is time for you to take some action. Before you jump to the conclusion that total asphalt replacement is your only option, let our team at Seal King Professional Sealcoating share some information with you regarding our asphalt parking lot seal & repair services.
Protection and Elegance with Sealcoating
Many property owners shy away from investing in their asphalt parking lot because they fear that asphalt replacement is the only route for them to take. If you've done any research, it doesn't take long to realize that asphalt replacement is extremely expensive. At Seal King Professional Sealcoating, we're proud to offer a more affordable option that will still get you many of the same results as asphalt replacement. This option is our asphalt parking lot sealcoating services. Using the strongest sealcoating materials on the market, we'll provide your asphalt parking lot with a seal that keeps it protected from the tough Northern MN weather. Additionally, your asphalt parking lot will be protected from oxidation, oil spills and aging, thanks to our effective asphalt parking lot seal. In addition to the protection, our proven sealcoating services will revitalize the overall look of your parking lot as well. Our sealcoating application will bring a fresh, new look to your old, worn down parking lot.
Experienced Asphalt Parking Lot Repair Experts
Dealing with asphalt cracking or even potholes around your parking lot? Leave these asphalt parking lot repairs up to our trusted staff at Seal King Professional Sealcoating. With more than 28 years of experience handling asphalt parking lot repairs, we can handle any type of damage that you're dealing with. So, if you're fed up with your clients complaining about your asphalt parking lot damage, it's time for you to do something about it! Through a partnership with our staff, your repairs will be handled quickly, effectively and will be backed by the Seal King Promise.
Don't continue to ignore the poor health of your asphalt parking lot each day. Instead, pick up the phone and contact your local Seal King Professional location today. From there, we'll provide you with top notch asphalt parking lot seal & repair services that simply cannot be matched by any other company in Northern MN. To find a Seal King Professional Sealcoating location nearest you, visit us at www.sealking.com.