Asphalt Pavement Maintenance Anoka MN
Posted In: Seal Coating
Published On: May 09 2014
Written By: Seal King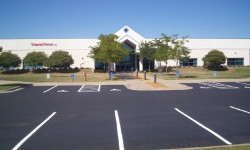 Does your parking lot or driveway lower the appearance of your home, office or store? If you are tired of constantly staring at a dull, faded gray surface Seal King has your solution. Downtown Anoka, MN is filled with asphalt, from pathways in parks to parking areas for restaurants, shops and bars, even residential driveways. A desire to stand out from the crowd makes sense and is a good business strategy but you could be loosing clients and visitors if your standing out for all the wrong reasons. When I say 'wrong reasons' I mean you have neglected to repair and protect your asphalt surfaces from damage and deterioration. This could lead to not only a loss in demand but a possible lawsuit.
Driveway and Parking Lot Maintenance
First impressions are huge when it comes to an overall opinion of your services or home.A proper asphalt seal coating, with a high grade liquid sealer, can extend asphalt surface life by double and add value to your property investment and curb appeal. An improper application of asphalt seal coating will leave you with an unpleasant and unappealing mess. Which is why it is important to choose a highly trained and experienced crew to work on your asphalt driveway, parking lot or path.
Seal King Professional Seal Coating
Prolong the life and look of your driveway, parking lot and pathways by contacting the professionals of Seal King. Our team will give you a free estimate on all your asphalt repair and seal coating needs. Minnesota is home to many elements that will damage asphalt, such as: weather, UV rays, oil, gas, other hazardous leaks, water, ice and ice removal substances that are frequently laid on the road in winter. Seal coating is the #1 effective way to protect your asphalt investment from these damages that will take place.
Asphalt Crew
Seal King's professional asphalt crews are local. Each area has an independent franchise location and owner. We don't travel across Minnesota to repair and seal coat your asphalt to then never see it again. We live in the area we work and drive by our serviced asphalt surfaces often, with pride and hold ourselves to the Seal King guarantee. Everyone in our crew is insured, educated, experienced and trustworthy.
Quality Seal Coating Product
Seal King only applies the most professional grade of product to your asphalt. We have specific mixture and climate-control standards which ensures the quality. Our high grade raw sealer and any performance additives used are all environmentally friendly. Our company understand how important it is to not only apply but also blend the perfect seal coat each and every time, for outstanding results that glisten and shine.
Don't drive people away with your hazardous asphalt surfaces, invite them to stay by hiring the asphalt processionals of Seal King today!You and only you are responsible for the welfare of your asphalt. Employ the long standing professionals to properly maintain, repair and protect your asphalt surfaces. Contact your local Anoka, MN area Seal King Franchise owner and operator Michael Heidinger at 612-987-4721 today!