Asphalt Repair And Professional Sealcoating In Western WI
Posted In: Asphalt Repairs
Published On: September 23 2022
Written By: Seal King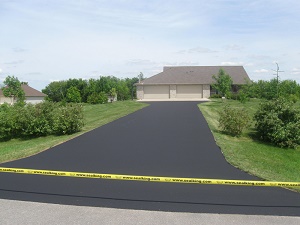 Taking care of your property is important for many reasons. If you decide to sell your property at some point, curb appeal will prove to be a driver in terms of interest and price. If you want to stay in your property, it is important to invest in it so that it looks its best, is appealing to your guests and does not pose safety hazards. First impressions are important whether you are a homeowner hosting guests, family or friends, or a business owner with customers and ongoing foot traffic. Seal King in Western WI, can help you improve the curb appeal of your residence or business with professional sealcoating services.
Asphalt can crack and become unsafe before you even realize it. Foot and car traffic combined with the extremes of Minnesota weather can leave your driveway, sidewalk or parking lot brittle, cracked, discolored and even unsafe. Seal King's professional sealcoating services provide an instant layer of protection for your asphalt, protecting it from the elements and the moisture that can cause damage over time. Our team can repair any existing issues with your asphalt and then apply our high quality and tested sealant for added protection. This process will only take a matter of hours and you will be left with a driveway, sidewalk or parking lot that looks its best and is safe for your guests. This is a relatively small investment that can yield positive results for your property value.
Protect Your Asphalt Parking Lot Driveway Or Sidewalk
Seal King stands behind its work – which cannot be said for many local competitors. In fact, we make our customers the Seal King Promise, which means that if you are not satisfied with our work, let us know and we will make it right. Our crews are experienced, knowledgeable and never cut corners. We will leave your property looking as good (if not better) than when we arrived and will communicate clearly to you about the timeline for our work as well as a firm estimate of the cost.
Residential And Commercial Sealcoating Services In Western Wisconsin
Seal King started as a small, local Minnesota business and now has many locations all over the Minnesota, Iowa and Wisconsin area. Even with this growth, our commitment to good work and our customers has never changed. Investing in your home or business is a part of owning a property. Let Seal King help you keep your asphalt looking its best. Reach out to a Seal King near you for more information and a free estimate.