Asphalt Repair and Seal Coating Albertville MN
Posted In: Asphalt Patch Repair
Published On: April 22 2014
Written By: Seal King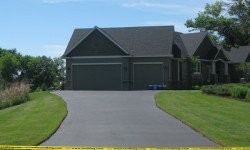 As the city of Albertville, MN continues to see tremendous growth both commercial and residential, it may be hard to keep up with the fresh look of the area. Businesses popping up everywhere, with their brand new siding, windows and landscaping. But one of the most noticeable things when passing by are the solid, beautiful black asphalt surrounding each and every new building and home.
If your home doesn't have that brand new look to it, like the homes showing up to the left and right of you, there is a way to give the exterior appearance a dramatic upgrade with asphalt repair and seal coating. At Seal King Professional Seal Coating we understand the difference a quality repair and seal coating can make for your property.
To get more years out of your current asphalt driveway, we recommend:
Power Edging
Our team always starts with power edging, to ensure a distinct, clean cut line between your grass and your asphalt. It is never appealing to see grass growing over your driveway and it's just one of the many steps we use to guarantee a high quality finished project.
Cleaning and Sweeping
To ensure our work is long lasting we clean and sweep your driveway or parking lot. Not only is it not pretty to see grass and other debris stuck in your driveway but it is also not good for the material and can compromise the durability.
Spot Treatment
Before any initial asphalt structure damage is corrected we make sure to properly treat your discolored asphalt. If left untreated, the hazardous chemicals can easily break down the new asphalt as well. Leaving you with repairs again sooner than desired.
Pothole Filler and Crack Repair
Our experts know that even a little crack can turn into the biggest problem, in only one season. We will inspect your asphalt driveway or parking lot for any damages and seal them up. If damages are extreme enough, we will recommend removal of that areas asphalt, correcting the foundation under the asphalt and laying down new asphalt and compacting it. This will correct the areas flaws and prevent the same damages from happening again.
Applying Professional Grade Sealer
After all the preparation and repairs are complete, we will then apply our liquid asphalt sealer that contains high action polymer additives and silica sand. This combination is durable and will protect your driveway, parking lot, paths or any other asphalt surface from the damaging UV rays of the sun and Minnesota's extreme weather.
Finishing Touches
After the seal coating is done we will block the entrance so there are not unwanted visitors making a mess of what will be a truly eye catching accent to your property. For businesses, we also offer line striping and any other brush applications you request.
Don't leave your driveway unprotected, call the asphalt professionals for the Albertville area at 763-684-4700, Matthew and Stacy Ebert, they are the Seal King Franchise owners and operators in your area!