Asphalt Repair & Sealing Duluth MN
Posted In: Asphalt Patch Repair
Published On: October 25 2019
Written By: Seal King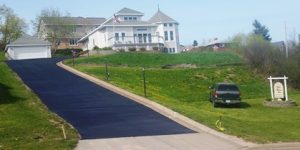 Are you in need of asphalt repair & sealing in Duluth, MN? If so, congratulations, you've come to the right place. At Seal King, we're asphalt repair and sealcoating professionals who have decades of experience helping homeowners and business owners throughout Minnesota keep their paved areas in tip top shape. Feel free to reach out to our team at any time if you're looking for a free asphalt repair or sealcoating estimate for your Duluth, MN property.
Why is Asphalt Repair & Sealing So Important?
It's imperative that you keep your asphalt in good shape at all times. This is especially the case in Minnesota where weather can really cause major problems with any type of paved material. With the frigid temperatures and the massive amount of snow we get each year, your asphalt likely has been compromised. Below are a few key reasons why keeping your asphalt in great shape is so important:
• Saves money – Asphalt replacement is expensive, which is why you should do everything in your power to protect your asphalt. When cracks are repaired and your asphalt is sealed regularly you're able to significantly extend the life of your asphalt.
• Safety – Potholes, cracks and other asphalt issues can present major safety issues. Whether it's for customers walking into your establishment or cars driving through your parking lot, you want to do all you can to prevent any safety concerns.
• Preventative maintenance – It's important to look at asphalt repair and sealcoating as preventative maintenance that's necessary. If you catch cracks when they're small you can repair them before the problem becomes too large to manage.
• Prevent water intrusion – Water is the enemy of asphalt, which is why asphalt repair & sealing is so important. If water gets underneath your asphalt it can cause the materials underneath to wash away and in turn compromise the asphalt. If you can keep water from getting underneath your asphalt, you'll likely have very little problems. Asphalt repair and sealcoating helps you to accomplish this task of keeping water out from under your asphalt.
Duluth MN Asphalt Repair & Sealing
If your asphalt is in need of repair or sealcoating, don't hesitate to reach out to the Seal King team today. We'll be happy to come to your Duluth property and give you a free estimate on what it would take to get your asphalt back into shape! Give us a call today to setup a time for one of our asphalt experts to meet with you.