Asphalt Repair Services Before Winter
Posted In: Asphalt Maintenance
Published On: October 14 2022
Written By: Seal King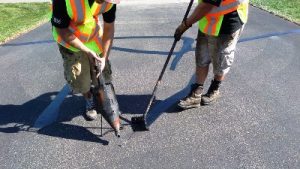 Now is the perfect time to have the asphalt around your property repaired. In addition to our well known residential and commercial sealcoating services, Seal King can also complete asphalt repair services for your parking lot, driveway or garage apron. When your asphalt begins to deteriorate, you will notice discoloration, small cracks (that will grow) and even potholes. This damage is caused by moisture and dirt getting underneath the asphalt over time. Seal King can repair your asphalt so that it looks as good as new, is safe for your guests and will stay that way for many years to come.
Professional Asphalt Repair In Minnesota, Wisconsin And Iowa
Our asphalt repair services can include sealing small cracks so that they cannot grow larger, patching areas with more damage. This involves removing the damaged area and replacing it with a new asphalt patch. This allows us to repair a large, damaged section of asphalt without having to replace the entire area. The team at Seal King follows a careful and consistent process for asphalt repair.
Our Asphalt Repair Steps Include:
● Taking careful and accurate measurements of the area
● Cutting the section of asphalt that needs to be removed
● Removing the damaged asphalt
● Laying a new foundation for the affected area
● Laying new gravel
● Compaction
● Cleaning the area
● Adding a tack coat
● Applying hot asphalt
● Final compaction and setting
Protect Your Asphalt After Repair
You will also have the option to add a sealcoating to your asphalt surface once the repairs are complete. This step will protect your asphalt from future damage, minimize the risk for cracking and discoloration and keep your asphalt looking new for many years. Sealcoating can eliminate the need for future costly repairs. When you work with Seal King, you will find that you receive professional service, responsive, high-quality work and affordable prices. We will assess any issues with your asphalt and give you a timeline for the repair work and budget. You will have the opportunity to ask any questions you have. When our work is complete, we will leave your property clean and looking even better than when we arrived. We stand behind our work and if you have a problem, give us a call and we will fix it. That is our Seal King Promise!