Asphalt Repair St. Cloud, MN
Posted In: Asphalt Maintenance
Published On: August 17 2017
Written By: Seal King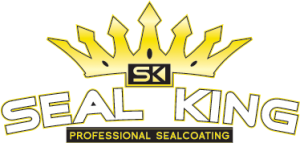 For the community of St. Cloud, MN, our team at Seal King Professional Sealcoating aims to teach homeowners or business owners all about asphalt. Unfortunately, we find a lot of people making poor decisions around asphalt repairs simply because they have never been taught anything about asphalt. Just because your driveway or parking lot has some potholes and cracks doesn't mean that it has to be replaced. If you have researched the cost of asphalt replacement, chances are you were in shock as to how expensive it can be. Avoid the expense of asphalt replacement by investing in our affordable and reliable asphalt repairs.
Top Notch Materials and Elite Repair Team
Since 1991, we've been providing St. Cloud, MN with asphalt repairs of all shapes and sizes. As a fully insured company, you can rest assured that our professional team will provide you with reliable, timely and detailed service. Additionally, we utilize the highest performance products on the market for all of our asphalt repairs. Our asphalt has the necessary components to hold up well against the tough Minnesota weather that hits this region of the country.
Superior Asphalt Repairs
At Seal King Professional Sealcoating, we're not intimidated by any type of asphalt damage. Our goal is to repair your asphalt so that it doesn't have to be replaced. Do you need those cracks in your asphalt to be sealed? That's our bread and butter! We'll seal up any cracks around your property to ensure that water and dirt doesn't penetrate the open areas. If your base layer of asphalt gets damaged, it can become more of an issue, which is why our sealcoating applications are so important. If you've got a specific part of your driveway or parking lot that is in extremely bad shape, we'd be happy to cut out the bad area and patch it with fresh asphalt. This is a much more affordable option compared to full asphalt replacement.
Consistent Repair Process
When it comes to asphalt repairs, it is important that every step of the process receives fair attention. Over the years, our team at Seal King Professional Sealcoating has mastered the asphalt repair process into a 10 step process that is effective and provides consistent results every time. This process includes:
● Measure
● Asphalt Cutting
● Asphalt Removal
● Foundation
● Lay New Gravel
● Compaction
● Cleaning
● Tack Coat
● Hot Asphalt
● Final Compaction
It's ok if you don't know much about asphalt. Quite frankly, the majority of the population in St. Cloud, MN doesn't know much either! So, before making any decisions about your driveway or parking lot that needs repairs, take some time to speak with our dedicated crew at Seal King Professional Sealcoating. Visit www.sealking.com to find a location nearest you!