Asphalt Seal Coating Anoka MN
Posted In: Seal Coating
Published On: May 06 2014
Written By: Seal King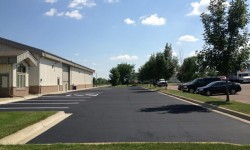 If you are in the Anoka, MN area and would like to extend the life of your current asphalt driveway or parking lot, Seal King has a solution for you. Our Minnesota harsh seasons will take a tole on your asphalt surfaces. Even the shining sun, which is more than welcome, can harm your beautiful black asphalt. The best way to protect your driveway or parking lot investment is to get it professionally seal coated.
You may notice I italicized the word professionally, for good reason too. You might be tempted to try and take on this project for yourself. If so, it's important you follow a routine strictly, there is no room for error and in our line of business, we have seen our fair share of unsuccessful DIY asphalt seal coating projects. And when that project turns into a disaster, not only can we see it but your whole neighborhood will know about it.
Seal coating is a messy job, if an avid homeowner attempts process, they'll end up with shoes that can no longer be used, clothes filled with seal coat and once they break out the seal coat, don't even think about stepping off that driveway or parking lot! The grass will stick to the bottom of your shoes, the surrounding surfaces will have an added shoe print and anything that can stick, will stick, leaving a bumpy driveway or parking lot on your property. Also, a steady hand is required, any spills of the seal coating can leave ugly puddles and blobs, for anything but a smooth finish.
The professional asphalt crew of Seal King works with these obstacles everyday. They're attuned to the process and are always equipped with professional grade tools, such as brushes, squeegees and rakes. The quality seal coating products used and additives are all environmentally friendly and certified by the MN Pollution Control Agency. Can your local hardware store's seal coating product guarantee that?
Our Professional Seal Coating Process Consists of a 10 Point Checklist:
1. Power Edging
2. Power Edge Cleaning
3. Power Sweeping & Blowing
4. Oil Spot Treatment
5. 400° Rubber Crack Filling
6. 400° Joint Filling
7. Edging Brush
8. Professional Seal King Sealer
9. Brush Application
10. Barricade Entrance and Exit
Let the professionals at Seal King properly and efficiently protect your asphalt driveway and give it a solid, smooth appearance. Micheal Heidinger is the Anoka, MN area Seal King Franchise Owner and Operator, call him today for a free quote at 612-987-4721.