Asphalt Sealcoating Edina MN
Posted In: Seal Coating
Published On: June 30 2014
Written By: Seal King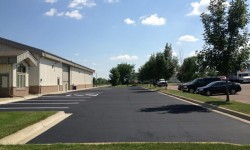 Seal King understands that Edina, MN needs asphalt sealcoating, repairs and line striping too; which is why we have local and professional Seal King asphalt technicians service the area. Whether you have a commercial property or residential property in need of a facelift, we do it all. Seal King has been a trusted asphalt sealcoating and repair company in Minnesota for over 20 years. We are passionate about our work and dedicated to providing the best results.
Commercial Sealcoating in Edina MN
Is your parking lot, drive thru or any other asphalt surfaces in need of repair? Seal King has your best solution, whether your a factory, church, hotel, restaurant, mall, or business office we can protect and repair your asphalt. Not only do we offer repairs and sealcoating, we also complete line striping, for parking slots, cross walks, handicap parking and any other reason you would need to direct traffic or inform drivers.
Residential Sealcoating in Edina MN
If your driveway's looked better, maybe the beautiful dark color has faded to gray or it's starting to look like a continental separation, Seal King can fix and restore its beauty. Whether its an association, apartment complex, single family home, duplex or whatever kind of property that needs an asphalt touch-up, we are the professionals you can trust. No driveway is too small or large for our professional asphalt services.
Asphalt Repairs in Edina MN
When asphalt starts to deteriorate, fade, chip, crack, have holes or become uneven it's time for repairs. Holding off on any repairs will only extend the damage and the costs. Seal King offers repairs, performed with the highest quality products and the best application techniques. Our hot crack filler, liquid sealer, patching product and oil spot treatment are top grade in the industry, as well as environmentally friendly. In extreme cases we recommend, measuring, cutting, removing and re-pouring new asphalt, so that the same problem doesn't occur again.
Professional Asphalt Services in Edina MN
If you are searching for a highly professional and experienced team to perform quality apshalt sealcoating and repairs contact us today. Our staff is efficient and they know what needs to be done and how to do it well. Our local Edina, MN Seal King Franchise owner and operators are Richard and Christopher Rimer, call them at 952-406-2918 today!