Asphalt Sealcoating Ramsey MN
Posted In: Asphalt Patch Repair
Published On: April 10 2014
Written By: Seal King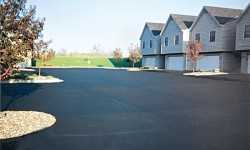 If you are a home, business, or an association owner in Ramsey and looking to boost your curb appeal, the professional pavement technicians at Seal King Sealcoating can provide you with just that. With all the extreme Minnesota weather driveways and parking lots can become an eye sore. If you are sick of looking down at the cracks and potholes that are in your asphalt we understand.
Seal King not only offers asphalt sealcoating but also offers superb asphalt repair. Prior to sealcoating asphalt we encourage proper repair of the asphalt so maintenance will be needed less frequently.  At Seal King we have to right tools for any of your asphalt repair needs.
Proper Asphalt Repairs Include:
Pothole Repair
Any damage will only become larger if left alone. Potholes can grow large enough to cause harm to a person walking by and can also damage a vehicle. A repair consists of cleaning then filling in the whole with a high grade asphalt mixture and leveling the surface so the repair becomes one with the existing driveway.
Crack Repair
This type of asphalt damage can also cause harm to both people and vehicles.  If left unattended asphalt cracking can extend through your entire drive way and lead to a completely uneven surface, which may mean that a complete asphalt replacement is necessary and a quicker and less expensive asphalt repair is not an option.  If asphalt cracks are caught in time, our professional will fill them with a specialized formula that allows for contraction and expansion. This process will ensure that the crack will not enlarge anymore.
Any asphalt damages that are not repaired in a timely fashion can become a liability to you. It is also important to properly fix the damage and not just cover it, so your driveway or parking lot will withstand longer and the breaks don't just re-surface.
Asphalt Protection
A major way to protect your asphalt and the initial investment you put into it is to make sure it is sealcoated. The glossy black color of asphalt attract UV rays and soaks them in, in return the rays break down and weaken the asphalt pavement mixture. Weather, chemicals and hazardous leaks will also deteriorate the overall structure of any driveway or parking lot. When in a weakened state damages occur more frequently and effortlessly, also the striking black color will turn into a dull dry gray. Getting your asphalt sealcoated can greatly extend the life of your driveway or parking lot, maybe even double it.
Seal King Professional Sealcoating has professional, well maintained equipment and highly experienced pavement technicians for all your asphalt driveway and parking lot needs. If you are in need of our services in Ramsey, call Michael Heidinger at 612-987-4721, he is a Seal King Franchise owner and operator.