Asphalt Services St. Cloud MN
Posted In: Asphalt Maintenance
Published On: April 13 2017
Written By: Seal King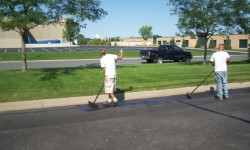 Are you searching for a reputable company to service your asphalt in the St. Cloud, MN area? Look no further because Seal King has your answer. Our asphalt maintenance company has been servicing Minnesota's pavement for over 20 years. Our combination of industry leading products, techniques and thorough 10 step process makes our services unbeatable. We offer asphalt repairs, crack filling, pothole patching, overlay, sealcoating, line striping for residential and commercial properties and our technique is always hands-on, because that's the way to achieve the proven, best results.
Reason for Asphalt
Asphalt paves the way for driving, parking, walking, running, roller skating, bicycling and probably many other activities I'm failing to mention. Asphalt make life easier….have you ever tried to bike on dirt? It's rough….and I doubt roller skating is even possible without pavement. There would be a lot more running injuries if we didn't have paths to smooth the natural earth, each and every bump is a sprained ankle waiting to happen. And think of the road ways! We think it's chaos now…just imagine no white or yellow lines, no clear direction as to where to park, it would be a disaster and flat tires everywhere.
Asphalt makes daily, excessive travel easier, less damaging and more controlled but if not properly maintained, the smooth experience your expecting can turn into a pothole swerving, face cringing, tire popping, suddenly stopping experience. Not just for vehicles but for walkers, runners and all the other people enjoying the activities perfectly maintained pavement allows us to do, almost effortlessly.
Signs of Damaged Asphalt:
Weed growth
Pooling of Puddles
Cracks
Potholes
Loose Gravel
Bumpy Surface
Missing Chunks of Asphalt
Fading Color
If you are noticing one or many of these on your asphalt surface, you're due for some maintenance. Seal King provides our asphalt maintenance services for residential properties, such as homes, apartments, dorms, townhomes, condos, assisted living facilities, duplexes; we also provide commercial asphalt services, like educational buildings, school parking lots, restaurants, retail, parks, city pathways, hospitals, even gyms. Whatever your need is, if you've got asphalt on your property we can perfect it.
Don't wait until someone eats the pavement, as in many aspects of life – proper prevention can save time, money and injury. If you are in the St. Cloud, MN area and would like some questions answered or to schedule a service contact Seal King's local owner and operator in your area, Tim Hoefer at 320-420-1901 or fill out this short online form.