Average Lifespan of a Minnesota Driveway?
Posted In: Asphalt Maintenance
Published On: October 30 2018
Written By: Seal King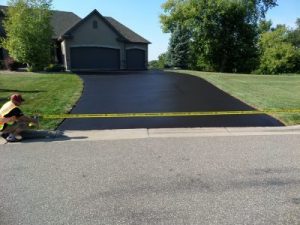 At Seal King Professional Sealcoating, we often get asked what the average lifespan of a Minnesota driveway is. Generally speaking, the average lifespan of a driveway is between 20 to 30 years. That, however, can vary based on climate and weather. It's not a surprise that Minnesota faces some of the toughest weather throughout the year. So, due to the heavy winters and brutally cold temperatures, the average driveway in Minnesota may not even make it to the 20 to 30 year average. To help ensure that you get the most out of your Minnesota driveway, you should consider teaming up with our crew at Seal King Professional Sealcoating and invest in a sealcoating application that will keep your asphalt protected year by year.
Protecting your Asphalt Driveway
As your driveway continues to age and break down, taking the necessary maintenance steps now will help expand the overall lifespan of your driveway. Mother nature, excessive exposure to sun, oil spills and traffic are some of the reasons why your Minnesota driveway is wearing down. Sealcoating is an effective and affordable way to protect your asphalt from the everyday wear and tear that your Minnesota driveway faces. Our ten step sealcoating application will provide that extra strength to keep your asphalt in tip top shape, even through the winter. To top it off, our sealcoating application brings a whole new look to your existing driveway.
Choose the Right Sealcoating Company
If you are looking to boost the lifespan of your Minnesota driveway without having to replace your asphalt, choosing the right sealcoating company is a critical decision. There are a lot of sealcoating companies in the area that use inferior sealcoating materials and rush through their projects. We often get calls from individuals who tried another sealcoating company first and weren't satisfied with the work that was performed. By choosing Seal King Professional Sealcoating for your sealcoating needs, you'll get instant access to the best products and techniques on the market. Additionally, our work comes with the Seal King Promise, which guarantees our work.
Don't let your Minnesota driveway break down over time. If you are trying to reach and exceed the 20 to 30 year average lifespan of a Minnesota driveway, investing in top notch sealcoating services should be your next move. To find a Seal King Professional Sealcoating location nearest you or to learn more about our sealcoating services, look in the right hand corner of this website for "Find a Location Near You". It's that simple!