Benefits Of Sealcoating Your Parking Area
Posted In: Asphalt Maintenance
Published On: August 16 2021
Written By: Seal King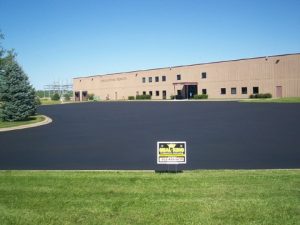 Throughout the Midwest, there are businesses setting themselves apart from their competitors by doing the small things that attract and keep their customers. One of those small but important things is offering a smooth, well-kept parking lot and entryway into your business. Professional sealcoating is a great investment in the overall look of your business and can have long lasting benefits.
There are strong signs that our economy is emerging from a temporary downturn. Employment numbers are improving and that means businesses are once again thriving. In a competitive market, a Seal King parking surface can boost a company's ability to compete. A parking surface that is smooth and free of potholes and cracks welcomes customers. It signals that the company is not only friendly to potential customers, but one that cares about its employees as well. Those are the companies that develop positive reputations and strong word of mouth recommendations.
If you have ever spent time sweeping debris from the walkway leading to your facility or shoveling snow for customers to have easier entry, you understand the importance of front-facing presentation. Your parking surface is the entry point for your customers, and Seal King can provide you with a sealcoating that is as smooth and durable.
Professional Sealcoating Services
Our commercial sealcoating process has been tested and proven for decades. In addition, the process from start to finish is minimally disruptive to your hours of service. In fact, we can work with you to ensure that our work to resurface your parking surface does not disrupt your hours of service at all. Our employees are highly trained and extremely efficient in the completion of our work.
The time it takes to complete the seal coating process depends in part on the current condition of the parking surface. Parking surfaces with more damage will require more repair and preparation for seal coating, of course, but the process remains the most efficient in the seal coating industry. Before applying our high-quality sealer, our staff will fill all cracks, pits, divots, and holes in your parking surface. We will also repair damaged and frayed edges. This process can add a sharpness to the appearance of your new parking surface, but the value extends beyond esthetics. Crisp, clean edges also guard against turned ankles and falls, reducing risk and liability.
High Quality Commercial Sealer
The sealcoating process itself involves the application of our unique seal coating material, which is heated to a high temperature, which provides assurance of a smooth and even application, as well as ideal curing. The Seal King sealcoating process adds new durability to your parking surface and will last for years. Contact a Seal King near you for more information about our commercial sealcoating services.