Best Sealcoating Company Near Me
Posted In: Commercial Sealcoating
Published On: November 06 2020
Written By: Seal King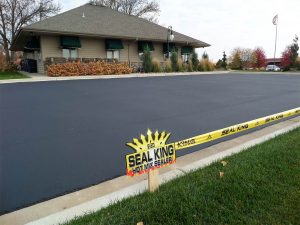 Looking for a professional sealcoating company that serves your home city? We have locations throughout Minnesota and western Wisconsin so chances are, we have you covered. At Seal King we offer the highest quality product, the greatest attention to detail, and customer service that keeps you coming back for more. If you are wanting to keep your asphalt looking brand new at a reasonable price, Seal King Professional Sealcoating is the right choice for you.
Residential Sealcoating Services
If you own an asphalt driveway, it's important to be aware of the many benefits that sealcoating can bring to your property. No matter how great your asphalt application was and if your asphalt goes unprotected, it will age in both color and texture leaving it brittle and prone to cracking. At Seal King Professional Sealcoating, we want to slow this process down and keep your driveway looking beautiful for years to come. We aim to protect it from the elements that can degrade your asphalt. Weather, sunlight and traffic all weigh in on breaking down your asphalt. Our sealing process puts that breakdown to a halt. We utilize the best products and the most studied techniques to get the best results possible for your residential asphalt space. Our 10-step process ensures that we never miss a step and the results are long lasting.
Commercial Sealcoating Contractors
If you are looking for a commercial sealcoating company by you, there's no better option than Seal King Professional Sealcoating. Why? Simply put, sealcoating is our specialty. We focus on perfection every single time. If you want to get the most out of your investment, our sealcoating company should be your one and only choice. Our commercial sealcoating aims to extend the life of your asphalt and improve your overall appearance. Similar to our residential sealcoating, we use the best products and provide a rigorous sealcoating technique process so that the result is always impeccable. From power cleaning and sweeping the area to line striping in your parking lot, Seal King Professional Sealcoating does it all from beginning to end.
The Seal King Promise: We are so confident in our product and process that we offer the Seal King promise. High quality workmanship at a fair price so that you are completely satisfied is always our goal. So ,if you are not completely happy, let us know before the winter and we will work diligently with you to resolve the issue.