Best Sealcoating Sealer for Winter Weather
Posted In: Asphalt Maintenance
Published On: November 14 2018
Written By: Seal King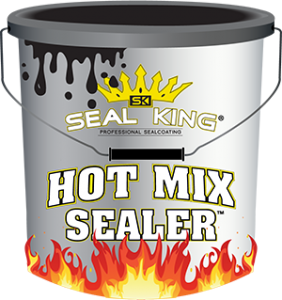 Seal King applies the best seal-coating sealer for winter weather—it is that simple.  As another winter heads our way and prepares its assault on the Midwest, it may be months before you can actually see the surface of your driveway under layers of accumulated snow, ice, and slush.  If you want to feel a sense of assurance that your driveway will emerge from the ravages of another Midwestern winter safe and intact, your best bet is to contact the Seal King Sealcoating service nearest your hometown now, before winter hits.
Winters in the Midwest are notorious for their relentlessness.  Sealcoating sealer must be up to the task of withstanding the snow, ice, rain, wind, and slush that are constantly working against your property's hard surfaces.  Seal King has all but perfected the process of installing environmentally friendly sealcoating systems that stand up to the ravages of the Midwestern winter.  We offer both residential and commercial services.  Whether you are looking to prepare your home's driveway or your business's parking lot for the cold-weather months and all they bring, Seal King Sealcoating is ready and able to provide you with the services you need.
Professional Sealcoating Services
The Seal King Promise is a statement of our commitment to treating our customers—all of whom are highly valued—with courtesy, honesty, and professionalism.  We succeed only when you feel confident that our work meets your standards.  It is for that reason that we train our staff not only to install seal-coating systems in a way that will last, but also in the importance of customer service and affordability.  We have 25 years of experience in the sealcoating business and have succeeded because we value high quality work and treating our customers well. Our long-term viability as a business is determined by your confidence in our work and in trusting that we will work to minimize the financial cost to you while always maximizing the quality of our work.
Protect your Driveway this Winter with Sealcoating
If you have not worked with us before, we hope you will reach out and allow us to help you before the winter arrives.  There are Seal Kings all over the Minnesota, Wisconsin and surrounding areas. Call a Seal King near you for a free estimate for our professional residential and commercial sealcoating services.  Our sealcoating services are ideal for all this Midwestern winter has in store for us and will protect your driveway, sidewalks or parking lots from holes and cracks while keeping it safe and looking like new.