Blacktop Driveway Sealcoating
Posted In: Seal Coating
Published On: February 20 2019
Written By: Seal Coating Team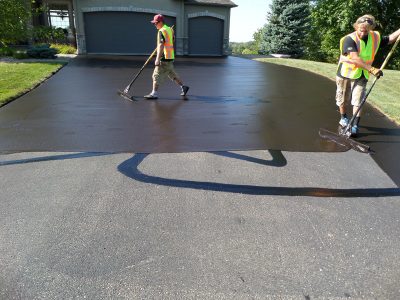 Is the one part of your property that needs some extra care your blacktop driveway? An old, worn down blacktop driveway can take away from the overall beauty of your property. It can literally stick out like a sore thumb! The reason your blacktop driveway may be in this state is because of the prices you've found for asphalt replacement. It's true, asphalt replacement is an extremely costly investment. The good news, however, is that asphalt isn't the only way that you can revitalize the look and strength of your blacktop driveway. At Seal King Professional Sealcoating, we offer a much more affordable option to our customers. Take advantage of our blacktop driveway sealcoating services this year!
What is Blacktop Driveway Sealcoating?
For those of you that are unfamiliar with the phrase, sealcoating, let us provide you with a little background about this affordable service. Sealcoating is a way to apply a facelift to your blacktop driveway without having to actually replace your asphalt. Through our sealcoating application, your faded blacktop driveway will look fresh and the asphalt itself will be protected from mother nature, sunlight, traffic and even oil spills.
The Seal King Touch
By choosing Seal King Professional Sealcoating for your blacktop driveway sealcoating, you'll get access to the total package and will receive top notch results. By using the highest quality materials on the market and having provided sealcoating services since 1991, the overall experience that you receive from our sealcoating experts simply cannot be matched. We've mastered the sealcoating application process so that it is done right the first time around every time!
10 Step Sealcoating Process
To dive into our processes even further, we'd like to share our 10 step sealcoating process that leaves you with the best blacktop driveway sealcoating application in the industry. These steps include:
Power Edging
Power Edge Cleaning
Power Sweeping & Blowing
Treatment of Oil Spots
400 Degree Rubber Crack Filling
400 Degree Joint Filling
Driveway Edging Brush
Seal King Sealer Application
Brush Application
Barricade Driveway
If you feel like the overall look of your property is almost complete, but the look of your blacktop driveway is a true eyesore, it's time to call on the experienced team at Seal King Professional Sealcoating. To learn more about our highly effective and affordable blacktop driveway sealcoating services, visit www.sealking.com to find a Seal King location nearest you. To top things off, our sealcoating applications are backed by the Seal King Promise!