Blacktop Sealcoating Company
Posted In: Asphalt Maintenance
Published On: December 18 2018
Written By: Seal King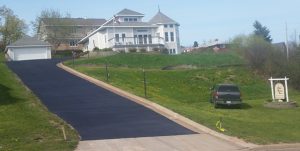 Seal King Sealcoating can give your driveway or parking lot the smooth surface that makes your properties the envy of neighbors and business competitors alike.  If you are considering having your residential driveway resurfaced, Seal King can provide you with an affordable solution that can add beauty and value to your home for many years to come.  In a more practical way, a blacktop sealcoating treatment by Seal King can rid your driveway of safety hazards and rough edges.  If you have kids, your new driveway will become a joy to ride a bicycle on or play basketball on.
Protecting your Driveway or Parking Lot with Blacktop Sealcoating
If you are a business owner, you may not have a desire for bike riding and basketball on your company grounds, but there are still many advantages to sealcoating your blacktop driveway or parking lot.  Your primary goal for your staff as well as your guests is to offer a safe pathway to your business. Blacktop sealcoating offers this safe and smooth surface and creates a more presentable first impression of your business.  Additionally, and more functionally, blacktop sealcoating strengthens your blacktop surface.  If you have heavy equipment, our sealcoating will go a long way toward protecting your blacktop surface from the weight and stress placed on it by heavy vehicles.
When we apply our sealcoating to your blacktop surface, you will have invested in a long-term plan whereby your parking surface is protected for a very long time.  Blacktop sealcoating stands up to the stress and pressure of constant traffic and the weight of heavy vehicles.  When applied by Seal King, your blacktop sealcoating will protect the underlying surface thoroughly and reliably so that you can be confident that it is functional, safe and looks good.
Professional Sealcoating Services
To ensure each of our customer's total satisfaction in our work, we offer the Seal King Promise which is our guarantee that we will address any potential problems promptly and do everything within our power to correct it for you.  Your business is important to us.  We strive to have you think of us as a part of your community, not merely a company that completes a job and moves on.  Our team of professionals understand the many unique dynamics of applying blacktop sealcoating properly, and when we create relationships with our clients, they are based on trust.
When the time comes for you to seal your driveway or parking lot with a strong, reliable sealcoat, we hope you will contact us.  We have many convenient locations in Wisconsin, Iowa and Minnesota and we would be honored to serve you.