Budget Friendly Asphalt Sealcoating Company
Posted In: Asphalt Sealcoating
Published On: July 15 2021
Written By: Seal King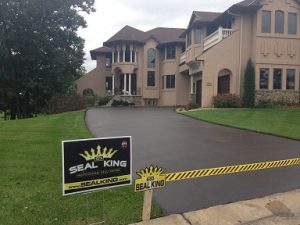 Time and time again, our customers at Seal King Professional Sealcoating come to us frustrated because of how expensive asphalt replacement can be. Whether it is replacing an asphalt residential driveway or an asphalt commercial parking lot in Minnesota, the costs around replacing this asphalt can be extremely expensive. Our clients are thrilled when they hear about our budget friendly asphalt sealcoating that can strengthen and enhance the look of your residential or commercial asphalt.
30 Years Of Sealcoating
There are various companies in Minnesota offering sealcoating applications. What sets us apart from these other companies is the fact that we have been providing budget friendly asphalt sealcoating services for 30 years. During this time, we've worked on both residential and commercial asphalt and have created the ideal sealcoating application that can hold up well against the tough Minnesota weather. Thanks to the fact that we use the highest quality materials on the market, you will not have to call our team back to your property any time soon for another sealcoating application.
High Performance And Environmentally Friendly Applications
When it comes to the materials used during your budget friendly asphalt sealcoating application, you'll be able to take advantage of the best products available. Our products are high performance even in the tough Minnesota weather because we utilize Premium Petroleum based emulsion pavement sealers with high performance polymer additives and Black Diamond Coal Slag. To ensure that water doesn't penetrate your asphalt in the future, we incorporate premium hot rubber material as crack fillers. The best part about these highly effective sealcoating materials is that they are environmentally friendly as our business has been certified by the MN Pollution Control Agency.
Protection Your Driveway Against The Elements
The budget friendly asphalt sealcoating application that you receive from our team helps protect your driveway or parking lot against the elements. Rest assured that your asphalt will be able to hold up well against heavy vehicle traffic, tough weather, oxidation, sunlight exposure, oil spills, etc. This protection is available to you at just a fraction of the cost that you would pay to fully replace your asphalt.
If the thought of spending so much money on replacing your residential or commercial asphalt causes you stress, our team at Seal King Professional Sealcoating has some good news for you. Offering budget friendly asphalt sealcoating in Minnesota, visit our website, www.sealking.com to find a location in Minnesota nearest you.