Business Sealcoating Services Southern Minnesota
Posted In: Commercial Asphalt Sealcoating Services
Published On: April 22 2023
Written By: Seal King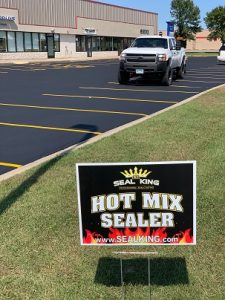 We all know that most small businesses fail within the first year of opening their doors. Starting a business is not easy and keeping a business open may even be more difficult. Once the business is up and running, it takes enormous effort to keep it successfully operating. Investments must be made in high quality products, high quality service, and working to keep both customers and employees happy. All of the efforts that go into maintaining a healthy business make profitability a tantalizing, but sometimes not attainable, goal. One way business owners can work to become profitable is to demonstrate to potential customers that their places of business are committed to providing their customers with a positive and appealing commercial experience. Professionally sealcoating your business' driveway, sidewalks and parking lot is one of those such investments, and a relatively low-cost investment at that.
Improve the Curb Appeal Of Your Southern Minnesota Business
A business that scores high on the curb appeal scale is more likely to attract customers, and commercial curb appeal is an underrated and often overlooked marker of success. Seal King's industry leading approach to parking lot and driveway sealing is one of the easiest ways to increase curb appeal for prospective and repeat customers, and on top of that, it is also one of the most affordable. The parking area for a business is the very first experience that new customers have with that business. If a parking lot is damaged and unsightly, that will stick in the mind of the customer, who may be less willing to make purchases and/or return for future business. A parking area serviced by Seal King guarantees a positive first impression for your customers.
Commercial Sealcoating Services Southern Minnesota
If the parking area that you provide for your customers is cracked, damaged, or just plain unsightly, Seal King offers a number of incentives to make our services more appealing. First is our extensive experience. The success of our business model has allowed us to streamline the process of resurfacing parking lots of all sizes, grades, and types. We bring experience, skill and expertise to each job we take on. Our very first Seal King location opened up in 1991 and we have grown steadily ever since. This combination of longevity and expertise means that we create a strong and durable parking surface. The time required to prepare your parking area for sealcoating and the sealcoating process itself severely limits its efficiency and will only impact the area for a matter of hours. That means your new and old customers will have a place to park much more quickly than when you partner with another sealcoating company. We have Seal King locations all over Minnesota, Iowa and Wisconsin so stop by or call us to learn more about our commercial sealcoating services.