Causes Of Garage Door Apron Damage
Posted In: Apron Repair
Published On: November 18 2022
Written By: Seal King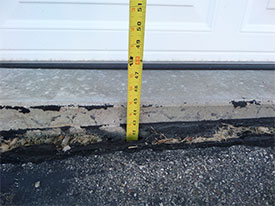 Has the asphalt in front of your garage started to sink? This is common and should be repaired very quickly before the asphalt fails completely. In addition to offering professional sealcoating services, the team at Seal King also completes garage apron repair. A damaged garage apron can cause a safety hazard for your car. It can be a tripping hazard for you or your family walking around your property. Damage to your garage apron will only worsen over the winter months, so now is the perfect time to complete the repair.
Garage Door Apron Damage
Your garage apron is likely sinking because of one of two reasons. Either your driveway has settled after your home was built or water has gotten between the garage apron and your driveway because of improper sealing. Over time, that water creates a cavity under the apron and over time the asphalt settles. No matter what the cause of the problem, it is always smart to get this issue fixed before the problem gets worse. Seal King can help.
Seal King specializes in garage apron repair and will leave your property looking its best. Our crew has developed a thorough, efficient and effective 9 step process that we follow to ensure consistency and high-quality work. This includes precise measuring and cutting, removing the damaged asphalt, filling any holes that are found before adding new base gravel and asphalt. Once the new asphalt is poured, we level it and compact it so that it will look smooth and professional. Finally, we clean up after our work and barricade the area so that it can fully dry. We always stand behind our work and if you discover any problems after we finish, give us a call and we will make it right.
Professional Garage Apron Repair Services
Your driveway apron is used very frequently, especially if your cars are parked in your garage. It may be driven over 6-10 times a day or even more. A damaged garage apron can cause problems for your tires and your car's suspension and alignment. A garage apron repair is affordable and can be completed quickly, before the weather turns and we begin dealing with snow and ice. Seal King has locations conveniently located all over Minnesota, Wisconsin and Iowa. We can complete garage door apron repair as well as residential and commercial professional sealcoating services. Winter is coming–give us a call today!