Church Parking Lot Repair Contractor
Posted In: Parking Lot Repair
Published On: January 14 2019
Written By: Seal Coating Team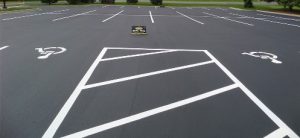 If your church parking lot needs a big facelift, you may not have to deep as far into the budget as you once thought. At Seal King Professional Sealcoating, we have an affordable alternative to asphalt replacement. If you've researched asphalt replacement, the price tag for this type of project may be more than your church budget can handle. Professional sealcoating and parking lot repair services from our team at Seal King Professional Sealcoating, on the other hand, is an affordable option that will help you achieve many of the same benefits as asphalt replacement.
First Impressions
Church guests base a lot of their decision as to whether or not they'll come back to your church for a second or third visit on the first impression that they experience. First impressions begin the minute the guest(s) enter the church property. The last thing that you want is for a new guest, or any guest for that matter, to damage their vehicle due to a pothole in the church parking lot. Churches often attract individuals of all ages, so it's important that the quality of your parking lot is top notch. Through parking lot repairs and sealcoating applications, our expert staff will get your church parking lot back to full strength in no time.
Pothole Repairs
At Seal King Professional Sealcoating, we've seen all sorts of damage over the years to church parking lots. Worn down asphalt leading to potholes is a common repair that we are called to fix. If your church parking lot has potholes, let our staff perform effective asphalt patching repair where we get rid of the bad asphalt and patch it with new, durable and long lasting asphalt. We can easily get rid of bad cracks within your church parking lot as well.
Sealcoating Brings a Fresh Look
Looking to wow your first time guests? Well, why not start the 'wow' factor the minute they drive into your parking lot. Through our highly efficient sealcoating application, we can revitalize the look of your church parking lot. At the same time, your parking lot will become more durable against mother nature. Another factor that shouldn't go unnoticed is that our sealcoating application is slip resistant as well, which is great to have in a church parking lot.
Church Parking Lot Repair Contractor
So, if you're finally ready to fix the damage around your church parking lot, look no further than our team at Seal King Professional Sealcoating to handle your needs. As a church parking lot repair contractor, we can handle any repairs that you need and we can also create a fresh new look for your parking lot through our professional sealcoating services. To find a Seal King Professional Sealcoating location nearest you, visit www.sealking.com today.