Commercial Asphalt Repair Company
Posted In: Commercial Asphalt Sealcoating Services
Published On: March 13 2019
Written By: Seal King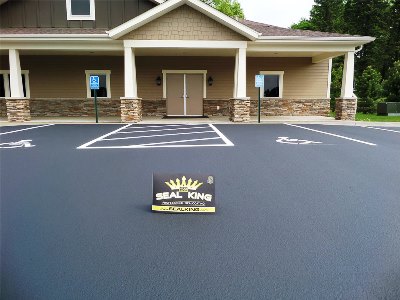 Looking for a quality commercial asphalt repair company in your area? At Seal King Professional Sealcoating, we should always be the first and only asphalt repair company that you need to call. If you are looking for a local company that offers high quality solutions, Seal King Professional Sealcoating is perfect for you.
Local and Experienced Commercial Asphalt Repair Company
Finding a local, experienced company can be like finding a diamond in the rough. Seal King Professional Sealcoating was started in our very own Lakeville, Minnesota and is independently owned and operated within each surrounding area we serve. We understand cold, northern weather and adjust our products and services accordingly. Since 1991, we have been providing commercial asphalt repairs for companies to ensure that their asphalt stays in tact no matter what the climate conditions may be.
Asphalt Crack Repairs
Whether you are repairing a specific area in your parking lot or walkway, Seal King Professional Sealcoating can take care of any job, big or small. We believe that even the smallest cracks should be taken care of quickly and efficiently. While one small crack in a large parking lot seems minuscule, that small crack will inevitably become larger, allowing water and dirt under the base layer of your asphalt. This, obviously, begins to create even larger, more expensive problems. As a commercial property, time is directly correlated to the amount of damage your asphalt may accrue. At Seal King Professional Sealcoating, we will come out to your commercial property and seal cracks right so that nothing can get thru it. This will prevent those bigger problems from occurring later.
Asphalt Patching
If your asphalt looks to have a larger pothole or weakened space, our team of professionals can easily cut the damaged area out and replace it with new asphalt. This is a process called asphalt patching. Asphalt patching is a quick and efficient procedure that is always done thoroughly for our customers. In the event that your asphalt has been damaged to the point where we are removing more than what is staying, we can perform an asphalt overlay. This is an affordable alternative to tearing up your existing asphalt and starting over again.
No matter what service you may need from your commercial asphalt repair company, Seal King Professional Sealcoating will complete it with the highest level of quality and care. Every job we perform goes through a step by step solution, ensuring that job is done right the first time around. For more information about your local commercial asphalt repair company, give Seal King Professional Sealcoating a call today or visit us online at www.sealking.com.