Commercial Parking Lot Repair
Posted In: Asphalt Maintenance
Published On: July 13 2017
Written By: Seal King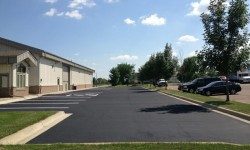 Parking lots are those parts of commercial properties that often get overlooked. With so much focus on the building or landscape, parking lots just don't get the tender love and care from their owners that they deserve. One reason for this is because many business owners assume that parking lot replacement is the only option. When you look at the price tag regarding a full parking lot replacement, your jaw will drop. The truth is, however, that there are other more affordable options when it comes to your commercial parking lot repair. At Seal King Professional Sealcoating, we focus on providing customers across Minnesota with durable, affordable and long lasting sealcoating services.
The Sealcoating Pro's
There are a lot of sealcoating companies in MN that offer discount pricing. While this may be appealing at first glance, you'll find that you have to quickly call them back again for another sealcoating application. Rather than relying on the discount sealcoating companies, leave your commercial parking lot repairs to the sealcoating pro's at Seal King Professional Sealcoating. We've been in the industry since 1991, and we have no plans of leaving anytime soon! Our attention to detail, high quality materials, experienced experts and affordable pricing all contribute to our decades of success. Seeing commercial business owners get their parking lot back into working order and helping them save money along the way is what our sealcoating professionals have a true passion for.
Benefits of Sealcoating
Not only is the price of sealcoating very appealing, there are other benefits that you can take advantage of as well. By investing in our parking lot repair or sealcoating process, our application will extend the life of your asphalt, reduce oxidation, keep your parking lot from weathering, protect against gas and oil spills and even boost the look of your parking lot! Just think about the first impression you'll make on your customers with a brand new looking parking lot, thanks to commercial sealcoating services from Seal King Professional Sealcoating. Another great benefit of sealcoating is that it only takes a fraction of the time that full asphalt replacement can take. So, your parking lot will be quickly accessible after we complete your parking lot repairs.
If you own a business in the MN area and are embarrassed by the look of your parking lot, it is time to do something about it! Rather than spending way too much money on asphalt replacement, team up with our staff at Seal King Professional Sealcoating and let us provide you with a long lasting and affordable sealcoating application. We'll have your commercial parking lot repairs handled in no time! To find a Seal King location nearest you, visit our website, www.sealking.com.