Commercial Parking Lot Repairs in Andover, MN
Posted In: Commercial Asphalt Sealcoating Services
Published On: August 21 2020
Written By: Seal King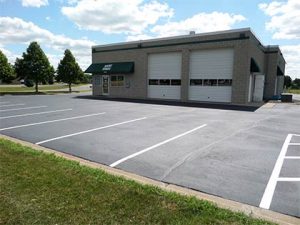 Are you embarrassed by the look of your commercial properties parking lot in Andover, MN? Have you received some complaints from your clients regarding the cracks and potholes throughout your parking lot? Don't risk losing a customer because of the poor health of your commercial parking lot. Rather than replacing the asphalt of your entire parking lot, our team at Seal King Professional Sealcoating has more affordable options for you. Take advantage of our effective commercial parking lot repair services and give your parking lot a fresh look and a great  first and last impression for your patrons.
Over time, and with the type of weather that hits the Andover, MN area, asphalt wears down and becomes weak. In turn, unwanted cracks and potholes develop because of the moisture that is able to make its way underneath your aged asphalt. Additionally, the overall look of your parking lot changes and loses the pop that it once had. To help provide your parking lot a refreshed look at an affordable price, it is time to consider our proven commercial sealcoating services. This sealcoating application can revitalize the look of your parking lot and strengthen it as well. Another great benefit to our sealcoating services is that it will extend the life of your parking lot. As if that is not enough, this sealcoating application provides additional benefits, which include:
● Reduced Oxidation
● Reduced Weathering
● Gas and Oil Resistance
● Slip Resistance
● Fresh, New Look
Asphalt Parking Lot Repairs Done Right
By choosing to work with our asphalt repair experts, you are gaining access to a team with decades of experience. We've been providing asphalt repairs dating back to 1991 and aim to serve this community for many more decades. Our staff follows a specific process with every repair that we take on to ensure that no steps are missed. We utilize the highest performance products so that they are able to hold up well against mother nature. Last, but not least, we keep the needs of our clients at the forefront with any job that we take on, making us the perfect team for the job.
Don't continue to let your commercial parking lot weaken and break down. Instead, commit to making a better first impression on your clients by committing to the repairs that are needed. Our experienced staff at Seal King Professional Sealcoating is ready to provide affordable commercial parking lot repairs to help provide you a refreshed look. Contact our Andover, MN office today by calling (763) 377-2220 to request a free quote.