Commercial Parking Lot Sealcoating Contractor MN
Posted In: Commercial Asphalt Sealcoating Services
Published On: November 16 2020
Written By: Seal King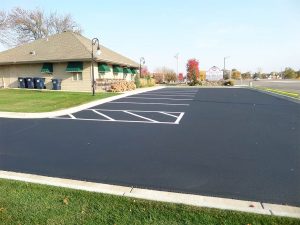 As we enter into the last part of 2020, commercial properties should be preparing for more traffic than they have previously seen this year. As a customer, experience always begins at first sight. When your customer pulls into your parking lot, their experience and perception of you is immediate. No one wants to subject their vehicles to potholes and old parking lots. At Seal King, we keep your commercial parking lot smooth and ready for traffic.
An Investment For Your Business
As each season ends and another begins, asphalt can easily shrink and expand, allowing for moisture to seep in underneath and lay the groundwork for potholes and cracks. The goal of sealcoating your parking lot is to extend the life and prevent that moisture from coming in. When we perform commercial parking lot sealcoating, we aim to slow down the oxidation phase, prevent weathering and provide resistance against gas and oil spills. An investment in sealcoating can save you time, frustration and even money. Why pay for repairs when you can keep your parking lot looking fresh with proper sealcoating? Sealcoating is an investment in both your parking lot appearance but also in protection.
Commercial Sealcoating + The Seal King Difference
So, what makes our commercial parking lot sealcoating services different from the rest? The answer is easy. Our quality simply surpasses the rest. Our sealer is made up of the very best raw products, the highest performance additives and special blackening agents to keep your parking lot looking clean and fresh. We carefully blend these elements together utilizing hot mixing equipment and pumps to get the exact blend of sweet perfection every time. Our sealant is created to work at and protect at the highest level but that is not where our high-quality service ends. Every commercial parking lot we do is done with precision and expertise so that we make the most out of our product. Utilizing an 8-step commercial sealcoating process, no shortcuts are ever taken in providing our customers with excellent service. Our 8-step process includes:
Power cleaning and sweeping the area.
Performing any additional cleaning to prepare the area for sealing.
Prepping and sealing any existing cracks found within the parking lot.
Utilizing hot rubber filler in areas of concern.
Treating oil spots that need to be removed
Applying two coats of seal
Performing sealer applications.
Lastly, applying the line striping to your finish and sealed lot.
For more information about our commercial parking lot sealcoating services in your area, contact your local Seal King Professional Sealcoating company today by finding a location near you.